Nokia 5800 - Mobile Phone Information
This page contains information on the Nokia 5800 XpressMusic handset, the first touch-screen phone from Nokia.
The Nokia 5800 is a touch-screen device, with a combined quad-band, 3G mobile phone, with a 3.2 megapixel digital camera and wi-fi connectivity. It also has built-in GPS for satellite navigation.

The Nokia 5800 uses the Nokia Series 60 platform (powered by Symbian OS v9.4 - Fifth Edition).

Dimensions: 111 x 52 x 15.5mm (109 grams)
Screen: 3.2" Colour touchscreen, 640 x 360 pixels
Memory: 81 Meg internal. Supports microSD cards
Connectivity: USB, Bluetooth, GSM, WCDMA, HSDPA and WLAN wi-fi

Features:

GPS built-in / Nokia Maps
3.2 Meg camera, plus videocalling camera
3G plus wi-fi
Stereo FM Radio

Discuss the 5800 in our Nokia Series 60 handset forum

The long-anticipated Nokia 5800 smartphone from Nokia is Nokia's first Series 60 touch-screen phone. The phone was released in the UK at the end of January 2009.
Available free on contract at Vodafone
Available free on Orange, T-Mobile and o2 contacts from Mobiles.co.uk
Available free on Orange contracts from Phones 4 U
SIM-free unlocked from Play.com with free delivery.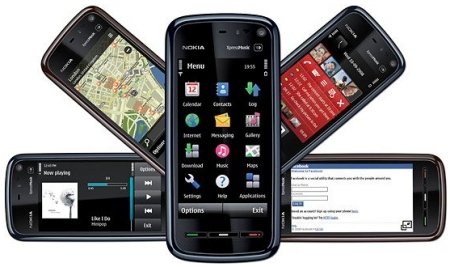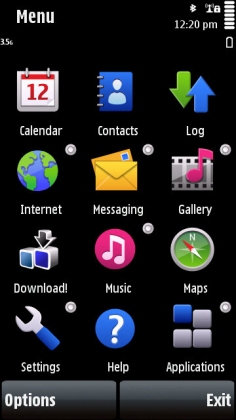 Screenshot: The Nokia 5800 Main Menu
Nokia 5800 FAQ
Your questions on Nokia's 5800, answered by our team:
How do I connect my Nokia 5800 to my PC?
The Nokia 5800 can connect to a PC using Nokia's connectivity software supplied on CD, or for download from www.nokia.com. Here is a summary of how to connect your Nokia 5800 to your PC.
USB cable. The Nokia 5800 is supplied with a USB cable that connects from the PC to the handset. When connected, you have to option to use the Nokia PC Suite to interact with the phone, or make a direct connection and access the filing system using Windows 'My Computer'.


Bluetooth connection. From the Nokia 5800, go to Settings > Connectivity > Bluetooth. Turn Bluetooth 'On', then select the second tab. This should show you all Bluetooth devices in range. If your PC isn't shown, select 'Options > New paired device' and let the Nokia 5800 search for the PC connection. When the phone and PC are paired, use the Nokia Connectivity package to select the file you want to send to the Nokia 5800.
If your PC doesn't support Bluetooth, then you can add it cheaply and easily using a USB Bluetooth adapter. We recommend the Belkin USB Bluetooth adapter available for around £15.
For details of Bluetooth, see our Bluetooth page, and for help connecting, see our PC connectivity page
Memory card reader. Another way to get files over to/from a PC is to make use of the microSD card slot in the Nokia 5800. Get hold of a Memory card reader for around £20 and copy files onto a microSD card plugged into your PC. Find out more on our Memory card page.
Files beamed to the Nokia 5800 can be found in the Messaging application, in the Inbox folder
How do I set up Internet, WAP and MMS on a Nokia 5800?
The Nokia 5800 is an Internet-enabled device. If you want to change your Internet connectivity settings, you will find these in Settings > Connectivity > Destinations.
Here, you'll find a number of options: Internet, Multimedia msg. and WAP services. You'll be wanting to add a "Packet data" connection (for 3G or GPRS connectivity)
For UK Mobile Internet settings, see our GPRS page
For UK Multimedia Messaging settings, see our MMS page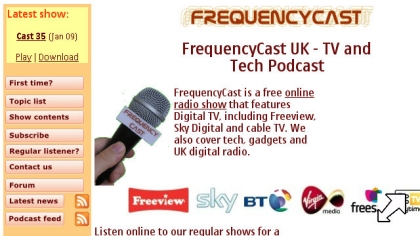 Where do I get Nokia 5800 accessories?
There's a wide range of accessories, including spare batteries, cases, chargers, in-car kits, hands-free units, data cables and fascias, available at Carphone Warehouse and MobileShop.
More power?
Our top accessory for the Nokia 5800 is
PowerChimp
, a portable, rechargeable power supply with bunch of connectors, including the required mini-Nokia.
As reviewed in Show 32 of our
UK Tech podcast
. More details, see our
PowerChimp review
.
How do I send email from my Nokia 5800?
If you're looking to use your Nokia 5800 for sending and receiving e-mail, see our
Series 60 Connect page
.
How do I install software onto my 5800?

Software for Symbian OS phones is normally supplied using a Symbian installation file (with a .sis extension). This is a single file that contains the components needed to get a piece of software installed and ready to run.
A SIS file can be run on a Symbian phone (e.g. from the Inbox or via the File Manager. It can also be run via the PC connectivity solution that was supplied on the CD with the Nokia 5800. Assuming you have a SIS file on your PC/Mac (either downloaded from the Internet or on a CD), the ways to install a SIS file onto your handset are as follows:
If you've downloaded an application and find you can't install it - make sure the file you're trying to install is a SIS (Symbian Installation) file. Many files are distributed in a compressed form (using the ZIP file format). If the file has a .ZIP extension, you'll need to unzip it first. You can do this with a PC application such as WinZip.
For help with installing Java applications and games, see our Java on Series 60 FAQ.


Where can I get extra memory for my Nokia 5800?

The Nokia 5800 supports microSD cards for memory expansion. Nokia can sell you their own microSD cards, but their prices for Nokia-branded cards are higher than for standard cards. We've not heard of any incompatibility with non-Nokia cards, so it's worth shopping around to get a third-party card. Here are a few online options:
Amazon - Always a good choice for reliable delivery at good prices
eBay.co.uk- bid for new cards at low prices!
For more details, see our Memory Card page


Can I use the Nokia 5800 in the States?
Yes. The Nokia 5800 is a quad-band phone operating on EGSM900/1800 (Europe, Africa, Asia Pacific), and EGSM 850/GSM1900 (USA, Canada, South America).
There should be no problem using the Nokia 5800 with network operators in these countries. Roaming restrictions from your network operator may prevent use of some services in other countries.


Can I receive faxes?
Looking to get faxes on your Series 60 phone? See our answer in the Series 60 FAQ

What's my Nokia 5800's serial number?
Enter '*#06#' as if it were a phone number, to get your handset's serial number (known as the
IMEI
) - useful to keep a note of in case your phone is stolen. You may also need this number when registering certain types of software.
Recycle your old mobile!
Got an old mobile phone handset that you're no longer using? Don't leave it gathering dust - recycle it. You may even be able to make some money for getting rid of your old phone safely.
For a summary of the best deals on making cash from your old handset, try the comparison search tool at www.sellyouroldmobile.co.uk
How do I format or hard reset a Nokia 5800?
We accept no responsibility for use of this code. It is undocumented, not supported by Nokia and should be used at your own risk.
The soft-format code for Series 60 phones is *#7370# . You enter this code as you would enter a phone number in the Phone application. It performs a format of the Internal drive - All data will be lost if you use this feature.
Note that you shouldn't switch the phone off or remove the battery when performing this operation, and it's advised that the handset has a reasonable amount of battery charge before performing a format/reset.


How do I copy files to / from a memory card
For details of how to copy files to/from an installed memory card, see the answer in our
Series 60 FAQ
.
How do I convert data to a Nokia 5800 format?
For help with information on converting your Contacts, Calendar and documents for viewing on your phone, see our
Conversion page
for some general guidance.
How can I print photos from my 5800?

If you've taken some pictures of your chums with your phone's camera - here's a good way to share them - Get the Polaroid PoGo.
No messy ink cartridges, use your phone's Bluetooth to get instant prints with this portable, rechargeable Bluetooth printer.
See our Polaroid PoGo Review for more.


Help... I need a Nokia 5800 passcode:
Below is a list of the various code types you'll find on the Nokia 5800:
Lock code
Length: 5 digits
Detail: Prevents access to certain functions on the phone
Set from: Settings > Phone > Phone Mgmt > Security > Phone and SIM card
Default: The default lock code for Nokia Series 60 devices is 12345.
Lost? - If you've changed this code and forgotten it - you will need to visit a Nokia authorised service centre, who will be able to reset the lock code for you.
PIN code
Length: 4 digits
Detail: This is an optional 4 digit code to protect your SIM
Set from: Settings > Phone > Phone Mgmt > Security > Phone and SIM card<
Lost? - If you keep trying, you'll eventually get locked out and need to contact your network operator for a PUK code (see below)
PUK code
Length: 8 digits
Detail: You'll be asked for this 8 digit code if you've entered the wrong SIM code more than the allowed number of times. You'll need to contact your network operator to get this lock lifted. PUK code help.
Network locking code
If your phone was fixed to work on a specific network (for example, Orange), this lock may prevent you from using another SIM in the handset. You may see "SIM card rejected" or "SIM card unaccepted". This lock can be lifted for you by contacting the network operator in question (there may be a fee for this).
Memory Card lock code
Our forum often gets messages from people that are seeing "Memory card locked". This means that your microSD card has had a password set on it. If you know the password, and want to remove it, go to Applications > File Manager > E drive > Options > Memory card password.
Lost? - Sorry, but we don't know of a way to remove this code. The advice we've seen via our forum suggests that you may want to format your memory card either from the Tools > Memory > Options > Format mem. card, or using a PC Memory Card Reader. If you know of a better solution, please pass this on via our forum to help others that have managed to lock themselves out of their cards!
We have the answer to lots more Nokia 5800 questions on our Series 60 FAQ
Other links
Want to talk about the Nokia 5800? Please use our forum, or leave a message on our Podcast Podline, 0208 133 4567