Google G1 Android Phone in the UK
Information on the first phone powered by Google's Android operating system - the Google G1 phone, and UK availability.
The Google G1 phone delivers a completely new mobile internet experience. With an always-on Internet service, this is a seriously connected device.

The Google G1 came out at the end of October 2008 exclusively with t-mobile.co.uk

Available in black and white

Features:

Calls, texts, instant messages, e-mail, blogging or social networks
High speed 3G internet with surfing even faster using the full touch screen and trackball
The full QWERTY keyboard design makes it easy to type
Google portfolio of services - search, IM, email and maps with GPS
It's the first phone with the Android Market, so you can download and add more applications
In-built 3 Megapixel camera

Discuss the Google G1 in our Mobile Phone forum
Became available on 31st October 2008 from www.t-mobile.co.uk - the phone is free on a £36.50 a month contract, with unlimited Internet access
Also available from Mobiles.co.uk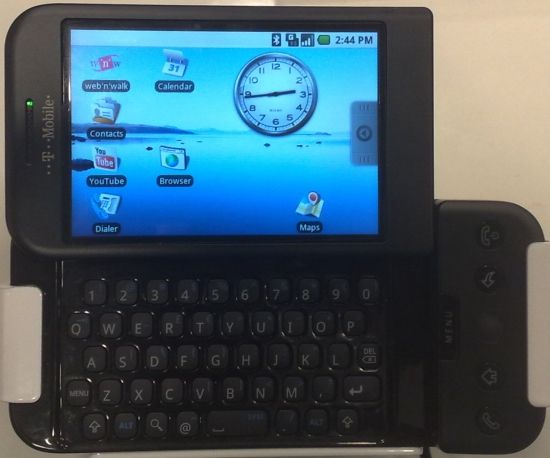 Up close and personal with the T-Mobile G1 handset

The Google G1 Web browser
Google G1 FAQ:

Available now - The FrequencyCast Podcast App - hear the FileSaveAs team discuss today's tech.
The FrequencyCast UK Podcast is a free download from the Google Android Market (Search for "FrequencyCast")
Other links
Want to talk about the Google G1? Please use our forum, or leave a message on our Podcast podline, 0208 133 4567