BT ToGo - BT Smartphone Review
We review the free Windows Mobile smartphone supplied with BT Total Broadband - the BT ToGo, also known as the HTC S620.
What is the BT ToGo?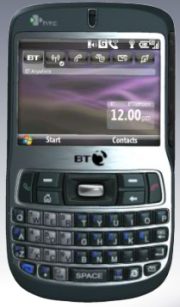 It's a small handheld Windows Mobile smartphone that lets you surf the web, send and receive emails, and make and receive phone calls. This device has onboard wi-fi, and is designed for use with BT's broadband service.
In May 2008, BT started bundling the BT ToGo with their top-end BT Total Broadband Anywhere package.
Launched by BT in May 2008, BT's clearly going after the Blackberry market, offering this portable email / web surfing / phone device with its home broadband service. The ToGo detects whether it's in range of a BT Home Hub or other wireless network, and will use this for data and calls. If it's out of range, it'll use the mobile phone network. The BT ToGo is a BT-branded version of the HTC S620 smartphone.
If you're with BT and fancy an almost free Blackberry-like portable email device, this is well worth a look.
More details on this page, and at bt.com/btbroadband
BT ToGo: Specs
Here are the specifications on the BT ToGo handset:
Camera: 1.3 Megapixel camera
Navigation: Keyboard , Joggr (a touch-sensitive sidebar)
Screen: Colour 2.4" display, 320 x 240
Operating System: Windows Mobile v6.0 (Smartphone edition)
Processor/memory: 210MHz CPU, 128Meg ROM, 64Meg RAM
Expansion: Slot for a Micro-SD card
Phone: Quad-band
Dimensions: 112 x 63 x 13 mm
More info on how to get this phone for free with home broadband, at bt.com/btbroadband
Review of the BT ToGo
We're pretty impressed with the BT ToGo smartphone. Made by HTC and powered by Windows Mobile, this offers great connectivity with a Windows PC, and it's just about the cheapest way to get a Windows Smartphone.
Below, you'll find our review of the BT ToGo...
First impressions?
Not as chunky as it looks in the promotional pictures, this is a comfy hold, and it's a slick device. A decent screen, and the QWERTY keyboard, although small, is fairly usable.
Getting started with the ToGo was easy. After inserting the supplied BT Mobile SIM card and leaving on charge for a few hours, the phone starts up fairly quickly, and runs a special BT wizard.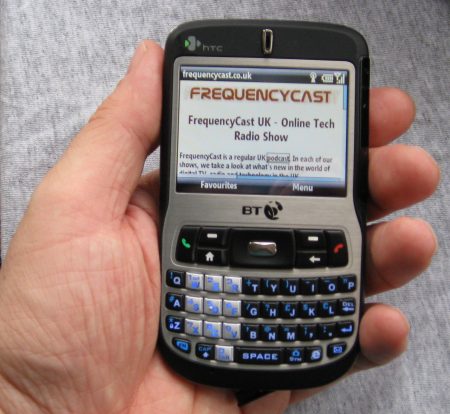 The wizard prompts you for your BT Yahoo email address (supplied with BT Broadband), then it scans for your BT Home Hub. When found, you're asked for the wireless security key (WEP or WPA), and the phone restarts.
The phone is then fully up-and-running, and the main screen appears with tabs for various BT services: BT Phone Book, BT Snap and Send, BT Yahoo Mail, BT Broadband Talk, Messaging (SMS and MMS), Call History and Web browsing.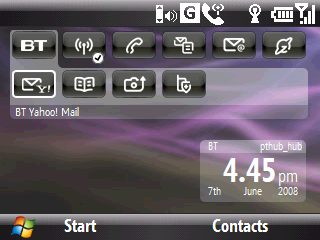 From the 'Start' button, you can get to the traditional Windows Mobile applications: Messaging (SMS and MMS), Call History, Internet Explorer, Camera, Contacts, Calendar, Pictures & Video, Settings, Tasks, Windows Media, Games (Bubble breaker and Solitaire), Comm Manager, File Explorer, Calculator, Clearvue PDF reader, Video Recorder, Voice Notes and Office Mobile (with mobile versions of Excel, PowerPoint and Word)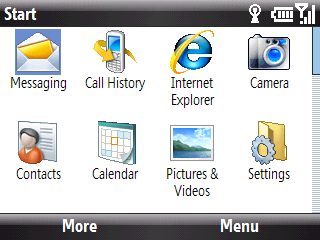 HTC S620 Windows Smartphone menu
BT ToGo: Internet access
The ToGo lets you surf for free over Wi-fi or using the BT FON WiFi hotspot network. You also get 500 minutes a month of time at BT Openzone hotspots.
If you're not in range of a free wi-fi access point, then you can use the GPRS / EDGE mobile data network, although you get a fairly stingy 10 megabytes per month download allowance. Each extra meg costs £1.50, but heavy users can opt to pay a little more for an unlimited data service.
Web access on the ToGo is acceptable - after having used the iPhone for browsing, no mobile browser compares, but for basic mobile browsing, the ToGo is fine, and the QWERTY keyboard makes entering web addresses a little easier.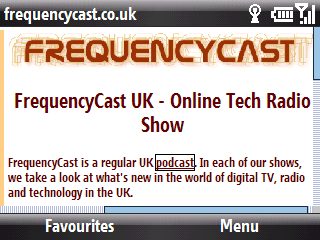 HTC S620 - Web browsing
BT ToGo: Email
The BT ToGo comes preset with your btinternet.com email address, and you can add a further four email accounts if you wish.The ToGo supports POP and IMAP email accounts as well as corporate email from a Microsoft Exchange server. You can set the ToGo to automatically send/receive mails at intervals ranging from every 5 minutes to once a day. Again, the QWERTY keyboard makes emailing better than on a device with a silly on-screen keyboard. This is a great little email device.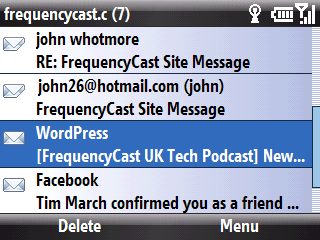 HTC S620 Email application
BT ToGo: Phone
The BT ToGo acts as a standard mobile phone. It's supplied with a BT Mobile SIM card. If you want to use this as your main mobile phone, you can transfer your existing number, otherwise, it's a second phone with a separate number.
You can also make calls over a data network, which work out cheaper for the majority of calls. BT Total Broadband Anywhere gives you 50 any network, any time call minutes and 50 texts so you can keep those conversations going when you're not at home. You can also use BT ToGo to make BT Broadband Talk calls in Wi-Fi hotspots.
BT ToGo: Camera
The ToGo has a built-in 1.3 Meg camera, which, with BT's Snap and Send, can be used to send photos to the Digital Vault that's supplied with BT Total Broadband. Sadly, no Flash.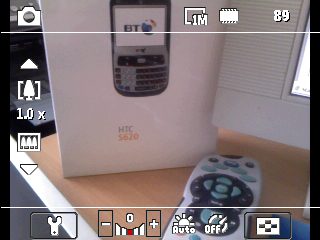 HTC S620 Camera application
BT ToGo: PDA
The ToGo is actually fairly decent Windows Mobile Smartphone, and comes with the standard Windows Mobile apps, including: Contacts, Calendar and Email. Sync to the PC is superb.
BT To Go is supplied with:
BT Mobile SIM Card
Instruction manual
Stereo headphones with mic and volume control
PC USB sync cable
Software CD
Carry Case with belt clip
Spare battery (well, not with ours, but there was a note that a second battery will follow in 4-6 weeks)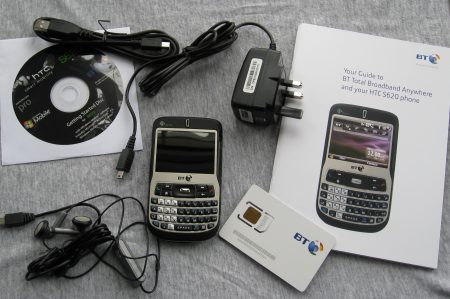 HTC S620 Box contents
BT ToGo Availability
The BT ToGo handset is available free on the BT Total Broadband Anywhere home broadband package.
BT Total Broadband Anywhere includes Broadband access (speeds up to 20Meg), BT Broadband Talk service, BT Vision (free digital TV recorder), BT Home Hub, and the VoIP Hub Phone, plus a range of other services.
BT Total Broadband Anywhere costs £23.48 a month for the first 3 months, then £29.35 a month. More at www.bt.com/btbroadband.
Got a question on the ToGo? Contact us, or ask in our networking forum
Useful links: