INQ Facebook Phone Explored
A closer look at the INQ1 phone from UK operator 3
Billed as The Facebook Phone, the INQ (pronounced the INK) integrates to your phone's address book and lets you follow your mates using Facebook, Windows Messenger, Skype, Email and Last.FM.

A slick mobile, with web browsing and 3G. It can also be used as a laptop modem.


Availability: NOW (Dec 2008) - free on contract, or £80 on Pay-as-you-go, directly from www.three.co.uk.

INQ1 Facebook Phone Specifications
Phone:3G Quad-band phone.
Dimensions: 97 x 48 x 15 mm
Weight: 110g
Screen: 2.2" QVGA (high res) / 262K colours
Camera: 3.2 megapixels
Battery: 329 hrs (standby) 324 min (talk time)
Connectivity: USB, Bluetooth, 3G.

Memory: 50 Meg internal - expandable to 4gig with micro-SD card
Operating system: BREW
INQ1 Review
The INQ is a surprisingly likeable phone. When we first heard about the Facebook Phone, our hopes weren't high. We were expecting a web-browser type Facebook experience, but the INQ1 actually does a great job of being a social networking phone.
If you want to hear an audio review of the INQ1, check out our INQ1 Podcast review
First thing we did when we got our phone out of the box and online, was to sync up an existing address book (from Microsoft Outlook), and see how it handles contacts. We saw something we've not seen before. No immediate option to add the usual address and job title details - we were asked for phone number, Windows Live ID, Skype ID, RSS feed (blog) URL, picture, website homepage and email address. Once you start using the phone, magic starts happening - you can then see your friend's MSN status, Facebook photo and Facebook status.
This phone integrates your phone's address book and social networking incredibly well, and makes you realise how inflexible existing devices, such as the iPhone, actually are when it comes to keeping in touch with your friends.
Facebook integration has been done very well - The stand-alone Facebook application lets you get to your Inbox, photos, friends, and to see a list of stories and update your status. It uses a web browser for some of the functionality, with the rest being tied to your address book and camera. Very usable - although the lack of QWERTY keyboard means that you'll probably be doing more browsing than writing.
Here are a few screenshots of the INQ1 in action:
| | | |
| --- | --- | --- |
| INQ1 Main Menu | INQ1 Facebook Screen | INQ1 Apps screen |
Apart from the social networking element, the phone's not a bad smartphone (especially for the low-end price). The multimedia's OK (although the lack of standard headphone socket is a pain), the web browser is acceptable, and email is supported.
Applications
Here's a summary of the pre-loaded apps:
Camera, Music player, Email, Skype, Windows Live Messenger, Video camera, Calendar, Calculator, Notepad, World time, RSS feed reader, Stopwatch, voice recorder, Epic Brain, PAC-MAN, Premierscores, Yahoo Weather, de Blob and ZUMA.
| | | |
| --- | --- | --- |
| INQ1 Address book | INQ1 Media Player | INQ1 Web Browser |
Hardware
As for the hardware - this is a nicely-made phone - brushed silver aluminium and none of that plastic stuff - the slider mechanism is solid, and the screen has decent resolution. The INQ1 is manufactured by AMOI in China. It's light, fairly slim and it's a comfy hold. Audio quality's good too.

The camera's OK - 3.2Meg with video is quite acceptable - there's a night mode and timer, and you can set a photo as wallpaper, a screensaver or as a contact picture. One nice touch is that you can send a photo you've just taken to Facebook - clever. Just a shame the phone has no flash.
Oh, and it can also be used as a data modem when connected by USB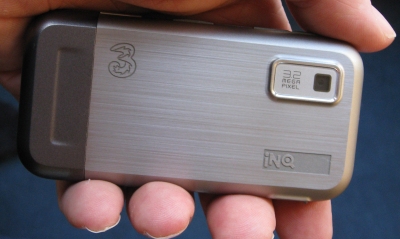 Supplied with?
The INQ1 is supplied with the following:
1Gig memory card, USB lead, stereo hands-free kit, mains adapter, software CD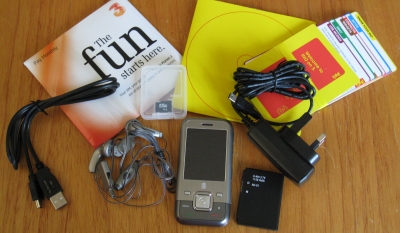 Summary
We were pleasantly surprised by this phone - well made, and the Facebook element has been very well thought through. £79 on PAYG is a steal for this phone, although you should consider the £15 a month contract option, as you'll want to be make the most of the unlimited data package to get Facebook, free Skype calls and instant messaging.
Availability: NOW (Dec 2008) - free on contract, or £79.99 on Pay-as-you-go, directly from www.three.co.uk.

FAQs
Got a question on the INQ1? Please ask us
Sell your old phone for cash!
Got an old mobile phone handset that you're no longer using? Don't leave it gathering dust - recycle it. You may even be able to make some money for getting rid of your old phone safely.
For a summary of the best deals on making cash from your old handset, try the comparison search tool at www.sellyouroldmobile.co.uk
Other links