NetGem / BT iPlayer
This page provides information on getting connected to Internet and email using the NetGem Freeview set top box, and BT's branded version of the NetGem
What the NetGem can do:
Receive Freeview digital TV and radio channels (More on Freeview)
Access the Internet (web access, including secure SSL) over dialup or broadband
Email access (POP and SMTP), including JPG attachments
File access (via USB storage or FTP)
MP3 playback
Display the name, number and picture of the person calling you on the TV, with CLI (BT's branded box only)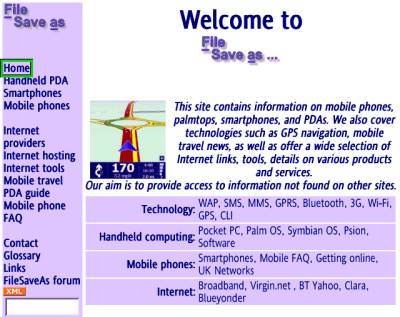 Web browsing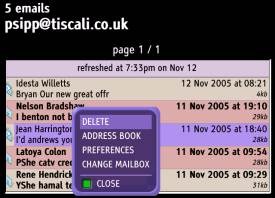 Email access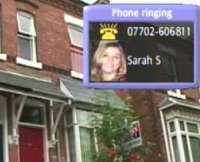 Caller display (BT version)
Connecting the Netgem
If you want to use your set-top box to connect to the Internet, so you can surf on your TV, this page offers help on how to get connected.
You can use the Netgem to connect to the Internet in one of three ways:
Using a dial-up Internet connection, using the box's built-in 56k modem

Connect using Broadband via a network (using a USB ethernet adapter)
Setting up for dial-up Internet access
To connect, you'll need to have an account with an Internet provider. You may wish to use your existing Internet account, or apply for a free account that can be used with your iPlayer.

For the purposes of this walkthrough, we're going to assume that you are in the UK and that you want to create a new dial-up account with an Internet Service Provider. Here, we're using a free dial-up BT Yahoo dial-up account. If you don't have an existing dialup account, then sign up for one from BT Yahoo free-of-charge and get a pay-as-you go account. There's no subscription fee, and you only pay standard local call rates for the time you're online.

To get an account, first, go to register.btinternet.com from a PC, select "Pay as you Go" and create an account. You'll then get some details that you'll need to set up your account on your iPlayer. Then, looking at phone, follow these instructions:
First, set up your Internet dial-up connection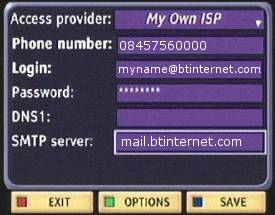 Go to Menu > My adapter > Preferences > Internet > Connection
Set "Access provider" to: My own ISP
Set "Phone number:" to BT Yahoo's dial-up number: 08457560000
Set "Login:" to your BT Yahoo email address (e.g myname@btinternet.com)
Set "Password:" to your BT Yahoo login password
Set "SMTP server:" to mail.btinternet.com
Scroll down to the Save button and press OK
Move to the 'Exit button to leave the ISP setup area
Then, set up your email mailbox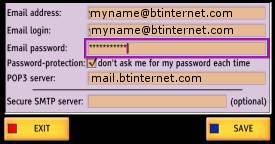 Go to Menu > Messages > Email > Existing account
Set "Email address" to your BT Yahoo email address
Set "Email login:" to your BT Yahoo email address
Set "Email password:" to your BT Yahoo login password
Set "POP3 server" to mail.btinternet.com
Scroll down to the Save button and press OK
Move to the 'Exit' button to leave the email setup area
Once you've entered these settings, you should be able to connect and start surfing. Make sure your box is plugged into the phone line with the supplied lead, and try to browse the web, or collect your emails.
Connecting with Wi-Fi
If you have Wi-fi at home, you can get your NetGem to connect to your system, and allow your box to connect to the Internet wirelessly. Even if you haven't got wi-fi, it won't cost much to get a wi-fi adapter for your PC and your NetGem. We use our NetGem to connect through our office wi-fi router to the Internet and also to our PC wirelessly. This allows us to surf the Internet from the TV using our existing broadband connection, as well as access media files that are shared on our PC.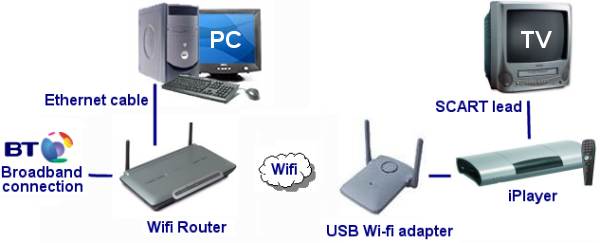 We're using the Belkin F5D6050U Wireless USB Network adapter - This is available for just under £30 from PC World (Also, try Dabs.com). Connection to our existing Wi-Fi setup was a piece of cake. Here's what we did:
We connected the Belkin F5D6050 into the USB port on the NetGem. An on-screen message appeared telling us it was trying to connect. We knew this wouldn't work, as our wi-fi network uses WEP for security
From the NetGem menu, we went to My Adapter > Preferences > Internet > Wireless, and got to the following screen: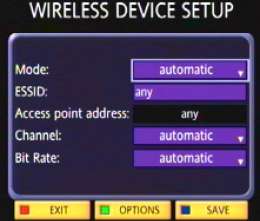 We set the mode to 'Managed', then pressed the green 'Options' button, where we found 'WEP configuration'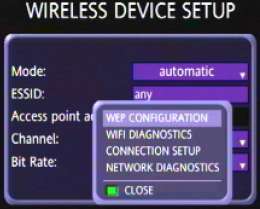 We selected this option, ticked 'Use WEP' and entered our WEP key in the 'Key 1' field, then saved the setting.

Magically, the box connected. We looked in WiFi diagnostics, and found that all was well.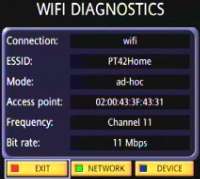 There are also a number of other settings that we didn't need (such as IP address, Netmask, and DNS). We did add our email server in the SMTP field, so that we could email out using Wi-Fi and our broadband connection.
For more on Wi-Fi, see our Wi-fi page. For more on Broadband, see our Broadband Information
The following wi-fi 802.11 USB adapters are supported by the iPlayer (running software version 4.5.2):

Looking for a wireless USB adapter for the iPlayer? Some of the supported models are no longer available, and we recommend you try Dabs.com, Misco
or Amazon
for the models listed above. Another option, is eBay.co.uk. For more on wi-fi, see our Wi-fi page.

---
Connecting via Ethernet
If you want to use your NetGem to connect to the Internet via an existing wired network, or a cable connection to an existing broadband connection, you can make use of an Ethernet connection via a supported device. You'll need a USB-to-Ethernet adapter. Here's a quick summary on how to connect to a Broadband connection
Connect a supported Ethernet adapter into the NetGem USB Port (see below)
Use an Ethernet (RJ45 CAT 5) cable to connect into your Broadband modem. Many broadband modems don't come with an ethernet socket (they're USB-only) - so you're going to need to get a Broadband modem with an ethernet port (look for a Broadband Router, instead of a Broadband modem).
Set up your network connection on the NetGem. This is similar to the above method for connection over wi-fi so we won't repeat ourselves. If you have problems, ask in our NetGem forum.
Supported Ethernet devices (USB)
Belkin F5D5050
Compex UE202 A, UE202 B
D-link DU E100
Ebuyer UE 120

If you're having problems finding stock, take a look on eBay.co.uk
---
FAQ
Connection to phone line
To connect to the 'net using a dial-up service (as opposed to Broadband or wi-fi), you'll need to plug your iPlayer into a phone line - but what about if you don't have a phone line close to your set-top box? The common solution is to run a telephone extension cable from your home's Master phone socket - kits are available from Argosand Maplin Electronics.
If you don't fancy running cables around your house, or messing around banging cleats into your skirting board, there is another option - You can use your home mains wiring to connect to your master phone socket. The Wireless Telephone EXtender from manufacturer One For All provides an instant phone socket without any wiring, and can turn an electrical socket into a phone socket. Easy-to-use and portable. Available directly from Maplin Electronics (Cat No: A82FY)and Amazon.co.uk
PC Share
If you have a connection from your NetGem to a PC (via ethernet or wi-fi), you can now use your NetGem to play MP3 files and view pictures - You'll need to download the special software, which was available from the netgemplatform.co.uk site, until August 2006. Fortunately, a copy is available on the Yahoo NetGem Group site (you'll need to register)
Got a question on the NetGem? Ask in the Freeview forum on our sister site