Pocket PC: HP iPAQ rx3715
This page contains information on the Hewlett Packard iPAQ rx3715 Pocket PC device.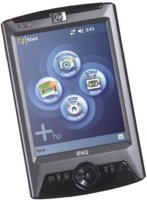 The HP iPAQ rx3715 device was released in the UK in the second half of 2004. A great PDA, and one of our top recommendations - no sadly discontinued...

Key points:
Great connectivity: wi-fi, Bluetooth and infrared
Built-in megapixel camera
Loaded with multimedia software (mp3, video and a remote control for your TV & hi-fi)
Loads of bundled software
Details on the rx3715
OS: Windows Mobile 2003 (Second Edition)
Expansion: SD slot
Display: 240x320 pixel touchscreen
Memory: 152MB memory
Navigation: Touch screen, four-way navigator
Battery life: Removable, rechargeable Lithium-ion.
Processor: 400 MHz
Availability:
Mini-review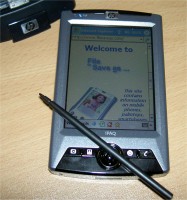 This little machine has a pretty impressive spec, and considering the price (under £300), it's something of a steal - if you want to get connected, this has wi-fi and Bluetooth on board - if you want to use it as a killer PDA, then it has the usual Pocket PC apps such as Pocket Outlook, Word and Excel, if you want the latest software, this comes with Windows Mobile 2003 (Second Edition), and if you like your media - this copes with mp3, MPEG and WMV video, takes photos, captures video and supports portrait and landscape modes.
The machine is billed as a 'Mobile Media Companion' - but don't let that fool you - it's not a cut-down Pocket PC loaded with some media apps - it's a full-spec Pocket PC packed with a load of extras built-in - this includes a megapixel digital camera (with video), remote control software for your TV / hi-fi, photo software for slideshows and picture editing, as well as software to allow you to stream media from your PC over a wireless network.
Scoring over many other PDAs, this model has a removable battery and a backup battery to keep you out of trouble - it also supports SD and MMC cards for adding extra memory, although HP has made a fair amount available - up to 152MB (including 96Meg of iPAQ File Store - memory that survives a hard-reset).
Below are three images from the rx3715 Mobile Media applications - the infrared multi-media remote control (excellent, by the way!), the image application for browsing pictures, and the photo editor, showing how to manipulate pictures on device.
Taking a picture is very straightforward - Select the camera application (which is actually HP Photosmart), and snap away. You can take still images or capture video: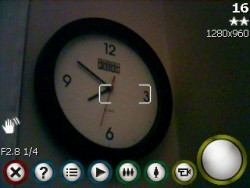 For image capture and management, HP Photosmart is built into the ROM. This easy-to-use application is used to manage photo and video capturing. Compared with many mobile phone cameras, the software supplied with this PDA is pretty powerful - the software allows you to set up white balance, colour (sepia, b&w, negative, etc), AE metering, compression and resolution (up to 1280x960). There's a self-timer and instant image review. The camera supports digital zoom and allows you to perform basic exposure correction for variable light conditions.
As for video, the HP Photosmart application supports capturing the following video format options: MJPEG (.avi files, sizes 160x120, 176x144 or 320x240) and H.263 (.3gp files, sizes 128x96 or 176x144)

Below is a sample of what the camera can produce - not the greatest quality, but on a par with standard mobile phone built-in cameras without a flash... good enough for snapshots, but not a patch on a dedicated digital camera...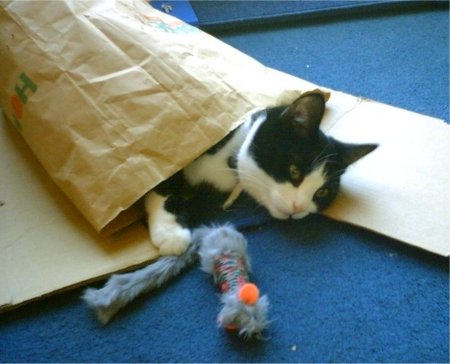 Below are two examples of the rx3715 working in Landscape mode - most of the onboard applications rescale perfectly to allow widescreen viewing, and many third-party apps work perfectly too!
Connectivity is very impressively managed too - Bluetooth, Wi-Fi and infrared covers the bases - allowing connection to a home PC, the office, other devices, broadband, etc, and for wireless ActiveSync
Pocket PC's Inbox, Excel and MSN Messenger applications:
The rx 3715 comes supplied with a USB desktop cradle, power adapter, a fairly basic slip case, a set of stereo headphones, getting started guide, and two CDs of software. The discs include Microsoft ActiveSync, Outlook 2002 and Mobile Media PC software, as well as the HP Image Zone package and a collection of other applications.
Frequently-asked questions:
Latest software version?

To check your version, do the following: Start > Settings > 'System' tab > 'hp Asset Viewer' application > 'Version' tab.

As of April 2005, the latest release is: ROM Revision: 1.01.11 ENG (Mar 2005)

To get the latest version, go to HP's Support site

How do I reset?

To perform a soft-reset (if the device has locked), briefly insert the stylus or a paperclip into the reset hole on the bottom left of the 3715

To perform a hard reset (losing all data!), insert the stylus or a paperclip into the reset hole on the bottom left of the 3715 while holding down the far left and far right of the four main buttons. Information in the iPAQ File Store will not be lost, but data on the Internal memory will be wiped.

I need help connecting

If you're looking to get your 3715 connected to Internet, perhaps via a Bluetooth or Infrared-enabled mobile phone, or via a wireless network, we have some pages of help on this, as follows:

Activesync problems

For problems with ActiveSync, see our page dedicated to Microsoft's PC synchronisation solution, Activesync

Installing software
Looking for help with software installation? See our dedicated ActiveSync page
ARM, MIPS or SH3 ?

If you come across Pocket PC software asking you to pick one of these three options, the one to go for is almost certainly ARM. These options represent earlier days of Pocket PC development, where an application had to be compiled for a specific processor. Just about all of the Pocket PC 2002 / 2003 devices are 'ARM' (including IPAQ and Loox). Early Casio Cassiopeia were MIPS and the early HP Jornadas were SH3.
If you see software making this distinction, it indicates the software may have been complied a few years ago, and therefore may not run on the latest machines. If in doubt, check with the software author

Turning off Dockware
If you're looking to disable the dockware screensaver, start the Dockwave application from Start > Programs > Dockware, then hold down the stylus on the screen. A menu pops up. Untick "Start automatically"
Navigation software
If you're looking to use your rx3715 for live navigation and mapping, consider TomTom Navigator for Windows Mobile. Connects via Bluetooth to a GPS receiver, and with the rx3715's loud loudspeaker, the live spoken route directions (we're using the voice of John Cleese!), works a treat. You can also add a free Speed Camera database to get alerts as you're motoring along. Full UK & Europe maps (to street / postcode level), and a whole stack of extra features. Highly recommended!

For more on TomTom Navigator on an rx3715, see our TomTom Navigator page.
rx3715 manual
If you're looking for a manual for the HP iPaq rx3715, go to the support section at www.hp.com - There's also another site that has a copy of the manual, here
Text entry
One visitor was confused as to how to enter text on his RX3715 Pocket PC, so we answered this in our PPC FAQ
Infrared
The rx3715 infrared 'eye' is at the top of the unit
How can I transfer data from another PDA?
Moving data from one PDA to another, or trying to convert a non-standard file into Pocket PC format can be troublesome. As it's such a common question, we've created a dedicated conversion page. If the information on this page isn't useful, or we're missing a format, please let us know.