Website Hosting and Domain Name Advice
This page contains some information on web hosting, and lists some of the UK web domain hosting companies that we've had experience of...
What is web hosting?
If you want to get a website up on the Internet - you need to create a bunch of webpages, then find a place to put them - once you've made your website, you'll need to "host" it somewhere, and for that, you'll need a web hosting service. We list some of the major UK players below. For more on creating your own website, see our "Get your own website" or "Creating a website" pages.
Namesco

Names.co.uk, owned by Namesco, is our top choice.
Names.co.uk offer low-price domain names, including .co.uk , .com, European names, .info and .me.uk. Namesco's domain name prices start from £10 for a basic domain with forwarding to another web and email address. They offer a wide range of hosting options with online stats, POP mailboxes, auto-responders and password-protected folders.
Namesco also host FrequencyCast, our podcast. See our Namesco page for more details.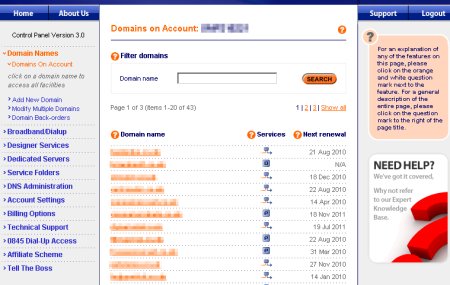 Namesco Control Panel - Domain list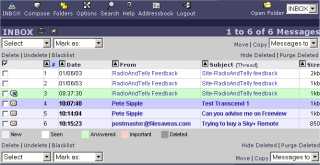 Access POP mail via webmail
1 & 1 Internet
If you're looking to secure your domain name, one of the cheapest ways to do this, is with 1 & 1 Internet. They offer low price domains, and are normally running some kind of offer to encourage you to use their services.
We've been using 1 & 1 for some years to look after a number of web domain names, and have had no technical problems in the time that we've been with them.
To secure your personal or business domain, go to order.1and1.co.uk.
---
Fasthosts
If you're looking for a low-cost hosting option that offers unlimited storage space and unlimited bandwidth, you should check out Fasthosts.
Fasthosts offers a wide variety of hosting packages with some handy added extras, and it's worth reviewing their service as a comparison to any other hosting options you're considering. Take a look at fasthosts.co.uk.
---
Clara.net
Clara.net are one of the more trusted names around, and are especially popular with small businesses who need more reliable and stable connections. They can help with domain name purchase as well as home or business web hosting. Basic website hosting starts at around £30 (with a domain name) including get 10MB of webspace and email forwarding. Paying a little more gets extras like web stat reports and improved email handling. This site is hosted with Clara. More on Clara.net.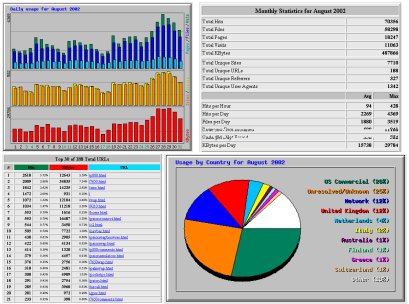 Web statistics and hit reports



---
Handy links