How to: Get Your Own Domain Name
Here at FileSaveAs, we think everyone should have a domain name. It's obviously vital for businesses, but as an individual, there are advantages to owning your domain name. Here are some step-by-step instructions.
Why get a domain?
Let's assume your name is "Dave Filesaveas" - Would you want someone else to by davefilesaveas.co.uk? Or would you rather own it yourself? For a few quid, you can secure your domain name before someone else does - and even if your name has gone, you can get the next best thing - such as davefilesaveas.me.uk, or dave-filesaveas.co.uk
Many people assume that "a domain name" means "a website" - but that's not the case. Sure, if you want a website, you'll need a good domain name, but you can own your domain name for just a few pounds without having to have a website.
The other important reason for having a domain name, is to ensure that you have a constant email address. Let's assume you're with BT - you'd be given the address davefilesaveas@btinternet.com - But let's say you decide to move to Virgin for your Broadband your email... well, you'll get a new address, such as dave.filesaveas@virgin.net - and have to tell everyone your new address before the BT address ceases.
The answer is to get your domain name, so that you can have dave@davefilesaveas.co.uk - You can then easily redirect this new address to any service you like - BT, Virgin, Sky, Plusnet, TalkTalk, etc. This is called email forwarding.
Getting a domain name is easy and cheap, and here's our step-by-step guide...
Step One: Check availability
There are several places that sell web domains. Here at FileSaveAs, we use two: Namesco and 1 & 1 Internet. For this example, we're going to use 1 & 1, as they're cheaper.
First, go to order.1and1.co.uk (this link opens a new window)
Then, type in the name you're after, select "co.uk" and select 'Check'


Example of 1 and 1 Domain Checking
Step Two: Buying the domain
You will be prompted to buy the domain, or to buy web hosting. You just want the domain name, and not the hosting. At the time of writing, the price is £2.99 a year for a .co.uk domain name.
You'll then have to put in your name, address and credit card details, and set up an account with 1 & 1. This should take you no more than 5 minutes.
Once you have bought your domain name, you need to wait between 12 and 24 hours before this becomes live. This allows time for the registration to be completed with the domain authorities, and for the domain to propagate around the Internet.
Step 3: Forwarding your domain
Now you have bought and paid for your domain, it's time to do something with it - let's set up the domain to forward email to your main email address
Log on to your 1 & 1 account using the account number and password created when you bought the domain. Then do the following:
Go to the Administration screen
Select "Manage Domains"
Select "Emails"
Press "New"
Type in the email address at your new domain (e.g. dave@davefilesaveas.co.uk)
Select Type as "Forward"
Enter the email address to forward emails to (such as your BT, Virgin, TalkTalk, Hotmail address)
Press OK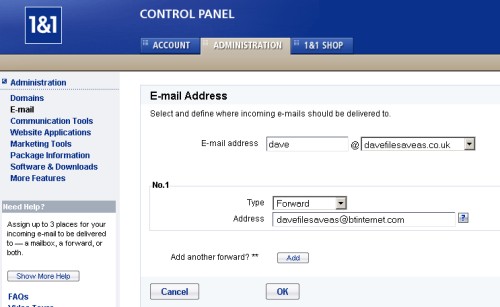 Example of 1 and 1 Email Forwarding Setup
And that's it. Getting email forwarding set up is very straightforward, and with your own domain, you can add more email addresses or change your forwarding at any time by logging on to the 1 & 1 Control Panel.
Handy links: