BT Videophone 1000
This page contains information and a review of the BT Videophone 1000.
Video calling over a standard telephone line has been tried in the past, and has never really taken off. With more and more homes now being broadband-enabled, BT has revitalised the idea, by bringing out two handsets that can make and receive video calls over broadband.
The two handsets released are the BT Videophone 1000 and the Videophone 2000. On this page, we'll take a look at the 1000 and see how it handles video calling.
What is the Videophone 1000?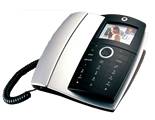 This is a two-piece phone with a 3.5 inch colour screen and a video camera. To use it, you need to have a BT Broadband account, and be signed up to BT Broadband Talk (which is free if you're with BT Broadband).
The phone can be used as a standard phone (you get a second number), as well as a videophone, and as your calls are routed over the Internet, you can benefit from very low cost phone calls.
Features:
Privacy shutter and secrecy button
Hands-free
Address book (255 entries)
Alarm clock
Copy address book from a phone's SIM card
Record your own ringtones
Picture-in-picture video calls
Take still photos of video calls

The BT Videophone 1000 was last seen for £39.98 from BT Shop, but is now listed as discontinued.
We recommend you search "BT Videophone" at Pricerunner for alternative providers, or try eBay.co.uk
BT Videophone 1000 Review
We got hold of a BT Videophone 1000 in September 2006, and have now put it through its paces. To test it out, we;'ve been using BT's Softphone software, as well as a Videophone 2000 to make test calls.
The handset is very well constructed, and pretty easy to use. It's important to note that the phone can't use used on a standard phone line - it has to be connected to a BT Home Hub (supplied free with BT Broadband Options 2 and 3) or a compatible router, and the router has to be connected to BT Broadband.
Setting up was fairly straightforward. The box comes with all of the required cabling, and all we needed to do was wire it all up, and set it up with our BT Broadband Talk account details (BT Broadband Talk is free with BT's Broadband service). For this review, we were connecting using a BT Home Hub.
<"center>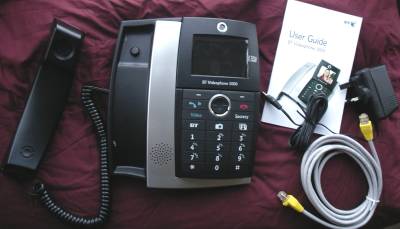 BT Videophone 1000 box contents
BT Broadband Talk comes with a new phone number, and our first test of this phone was to try a voice call, by dialling into this number. It all worked rather well, something we weren't actually expecting, having played with a videophone some years back. The Videophone 1000 uses something called High Definition Sound (Hi-dS), and actually for an Internet voice call, the quality was pretty good. We also didn't get any of the delay we're used to with voice calls over services like Skype.
If you're interested in hearing the difference for yourself, take a listen to the audio tests we did in Show #08 of Frequencycast, our very own online radio show.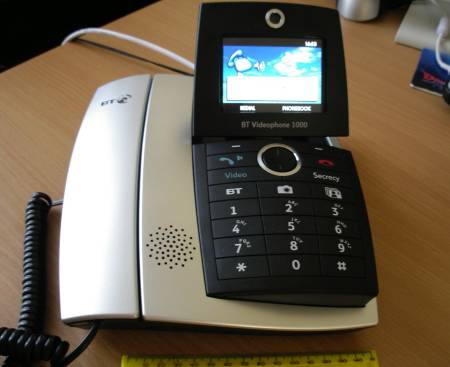 Once set up, video calling was very straightforward. To start a video call, it's a case of pressing the Video button, then dialling in the recipient's number. The phone emits a higher-pitched dial-tone, which helps you to realise that you're dialling over the Internet. Connection only takes a couple of seconds, and then, provided the other end accepts Video, the screen shows the remote camera.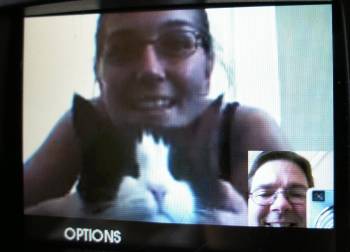 Pictured above is a video call in progress, using 'Picture in picture' mode. There are a couple of alternative views. Our personal favourite is the 'Side by side (technical), which shows some technical information about the call, as pictured below: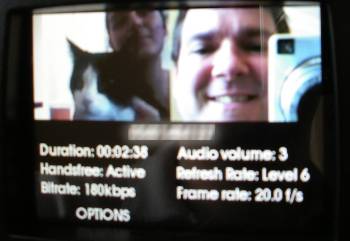 To make connection as easy as possible, the connectors on the BT Videophone are pretty basic, and foolproof. There's an Ethernet connector, for connection to the router, and a socket for the supplied mains adapter. In the next section, we'll explain how to set up BT Broadband Talk, and how to connect the Videophone 1000

BT Videophone 1000 connectors
Got a question on this BT Videophone, or on videocalling in general, let us know
Setting up the BT Videophone 1000
Here's what you need to use the BT Videophone
A BT Videophone
A BT Broadband account
A BT Broadband Talk (which is free if you're with BT Broadband).
A Broadband router, connected to your broadband-enabled router, with a spare Ethernet port. The BT Home Hub (free with BT Broadband) is ideal.
Here's what we had to do to set up the Videophone 1000:
Plug the videophone into a spare ethernet socket on our hub / router (we're using the BT Home Hub)
Plug the phone into the mains
The screen then prompts you to register, by entering your BT Broadband Talk account details (BT Broadband Talk phone number and password, as advised when you signed up)
Go to www.bt.com/bbv, and follow the option to configure router / hub
You should then be ready to go.
The above assumes that you've got a fairly standard network setup at home, using DHCP to assign a unique address for your phone. if you have a more complex setup, there's an option to allow you to take greater control of your phone's network settings - you can use a dynamic (DHCP) or static IP address (specifying IP, subnet and gateway address). You can also set a bandwidth threshold (between 100-240kb), to control how much of your broadband bandwidth is used for video calls.
BT Videophone 1000 FAQ
Availability

The BT Videophone 1000 is available for £39.98 from BT Shop

Problems connecting ?

When we very first tried connecting, we were getting an error message: "Incorrect account details. Please check and try again"

In our case, there wasn't actually a problem with our username or password - the problem was that we hadn't configured our account. After a visit to www.bt.com/bbv , where we had to press a button to configure our router, we were OK.

BT Broadband Talk

To use video calling with a BT Video Phone, you need to be signed up to BT Broadband Talk. BT Broadband Talk is free to BT Broadband customers, or £2.99 to non-BT broadband customers.

If you're not with BT for your broadband, you have two options: Switch to BT Broadband, or sign up at the non-BT Broadband rate of £2.99 a month. More details at www.bt.com/btbroadband



Demo of audio quality?
If you're interested to know more about the audio quality, and hear our team discuss BT Videophones in more detail, take a listen to our online radio show, where we reviewed BT Broadband Talk, and videophones. Listen online, or download the show from www.frequencycast.co.uk/cast08.html


SIM card slot?
The Videophone 1000 has a SIM card slot. You can use this slot to extract the phone numbers on your mobile phone SIM card to populate the phone's phonebook (which holds up to 255 entries)
General Videocalling questions? Try our Videocalling FAQ.