Video Calling - How to Make Video Calls
This page contains information on video calling, including a look at some software and hardware video calling products.
On this page, we look at video calling - the technology used to make voice and video calls over the Internet. The idea of having video phones in people's houses, or making video calls from mobile phones, is nothing new, but from 2006, there's a push to make house-to-voice video calling more popular - the magic ingredient being broadband Internet, which now makes person-to-person home videocalling practical.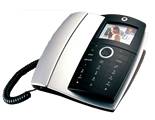 Video phone calling was first trialled a few years back over standard phone lines, but these lacked the bandwidth to support stable video calls. Now that more and more homes have moved over to higher-bandwidth broadband services, video calling is now possible in higher quality, and users of services such as MSN Messenger have been able to use webcams to do two-way video for a couple of years now.
In an attempt to make video calling easier and more accessible, BT has brought out a couple of videophones, to encourage less computer-savvy people to make use of video-over-Internet. To use these devices, you need to sign up to the free BT Broadband Talk service (free with BT Broadband). With BT Broadband Talk, video calls via your broadband connection can be made between two BT Videophones, a BT Videophone and a Softphone (on a PC with a webcam), or two Softphones used with webcams. If you're looking for advice on getting or using a videophone, hopefully we can help.
Videophones
In 2006, BT brought out two dedicated videophones that can be used to make video phone calls over broadband. We've been lucky enough to get hold of these handsets for review, and have been generally pleased with the results. The two handsets are listed below.
The Videophone 1000 and Videophone 2000 both make use of a Broadband connection for voice and video calls over the Internet, and BT are encouraging users to make use of their voice/video-ready BT Home Hub with BT's Videophones and BT Broadband Talk. These phones use something called Hi-dS (standing for High definition Sound) to achieve decent voice quality over the 'net, and in tests we did for our podcast, the quality of voice calls over BT Broadband Talk were pretty impressive (Take a listen to our tests in Frequencycast Show #08) .
If you're interested, take a look at our reviews...
The BT Videophone 1000

This supports voice and video , and is connected to Broadband Advice via an ethernet cable and a compatible router.

The BT Videophone 2000

As well as video calling, this videophone has a basic web browser, and has a few extra media features not supported on the more basic Videophone 1000. It can also connect to the Internet wirelessly with wi-fi.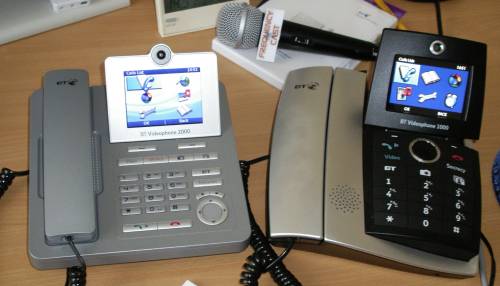 BT's Videophone 2000 and Videophone 1000
BT Softphone
This is a free bit of software from BT, and if you've even used a PC Instant Messenger application such as MSN or Yahoo, you'll be familiar with the concept. The app is downloaded and installed onto your PC, and runs in the background. You can use it to initiate a voice or video call, using a microphone and/or webcam connected to your PC. The Softphone application can communicate with other PCs using Softphone software, or can make voice/video calls to phones such as the Videophone 1000 or Videophone 2000. You can also use the service for cheap voice calls over the Internet using BT Broadband Talk.
Softphone accessories can be found at shop.bt.com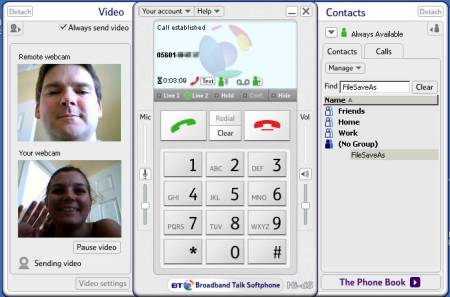 BT's Softphone application
Mobile phones
Video calling over the UK mobile phone network is possible using the newer generation of mobile phone services over the 3G network. You'll need a phone handset with a video camera, and to be connected over 3G. For more on 3G, see our 3G page.
Pictured below is the Nokia N70 mobile phone, which has a camera facing the user - with a 3G connection, two-way video calling to a suitably-equipped mobile phone user is possible.
Video Calling FAQ
Broadband usage

We've been asked if video calls eat in to your monthly broadband usage allowance.

It's our understanding that if you're using BT Videophone or Softphone to make video calls, and you're a BT Broadband Talk customer, the data transferred during voice and video calls doesn't eat into your monthly broadband download limit.

There's a note on the BT site that states: "If you have BT Broadband, your usage allowance will not be depleted by using BT `. However, if your broadband is not supplied by BT, calls may deplete any usage allowance applied by your broadband provider. Please contact your internet service provider to find out more details of how your usage is affected."



BT Broadband Talk

To use video calling with a BT Video Phone, you need to be signed up to BT Broadband Talk. BT Broadband Talk is free to BT Broadband customers, or £2.99 to non-BT broadband customers.

If you're not with BT for your broadband, you have two options: Switch to BT Broadband, or sign up at the non-BT Broadband rate of £2.99 a month. More details at www.bt.com/btbroadband



Videocalling costs

How much does it cost to make a video call?

As of November 2007, the cost of making a video from a Video phone 056 number, either to another Video phone 056 number, or to a Broadband Talk Softphone 056 number, is 10p per minute (inc VAT). Check the latest price at BT Price list.

There is no charge for receiving a video call.

Demo of audio quality?
If you're interested to know more about the audio quality, and hear our team discuss BT Videophones in more detail, take a listen to our online radio show, where we reviewed BT Broadband Talk, and videophones. Listen online, or download the show from www.frequencycast.co.uk/cast08.html


Help with BT Broadband Talk

If you need help, here are the numbers to call:

BT Broadband Talk Technical Helpdesk on 0800 800 150
BT Order Management: 0800 800 150 (to get set up)

If you're looking for more help, perhaps try in our Networking forum