sWaP Nova Keyring Phone Reviewed
We take a look at the sWaP Nova, a truly tiny mobile phone that may be the most advanced keyring around.
What is the sWaP Nova?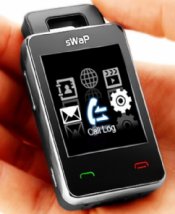 If you're a fan of our technology podcast, FrequencyCast, you may have heard us review the sWaP Watch, a high-spec mobile phone in a wristwatch. The sWaP Nova takes the technology used in the sWaP range of mobile phone watches, and crams it into a lightweight keyring.
Here's what the sWaP Nova has to offer:
Quad-band mobile phone
SMS and MMS messaging
Media player (Photo, video, audio player)
FM radio
USB storage device
Touch-screen interface
Loudspeaker / headset / Bluetooth
Voice recorder
Calendar / World clock / Alarm / Stopwatch
WAP Browser
sWaP Nova Availability:
The sWaP Nova Keyring phone is available for under £200 in Black and Red from:
A more expensive Crystal version is also available from some of these retailers
sWaP Nova Mobile Phone Specifications
Phone: Quad-band GSM.
Dimensions: 68.6 x 38 x 16.2 mm
Colours: Red, Black or Crystal
Weight: 43g
Screen: 1.76" colour touchscreen
Camera: None
Battery: 82 hours (standby) / 120-150 mins (standby)
Connectivity: USB, Bluetooth.

Memory: Supplied with 2GB Micro SD Card - expandable to 8GB
sWaP Nova Review
This is without doubt the smallest, lightest phone we've ever seen, and we've seen a lot of phones. It weighs in at just 43 grams and it's not much bigger than a PP3 battery. Despite its size and weight, it packs a punch for voice, data and media playback.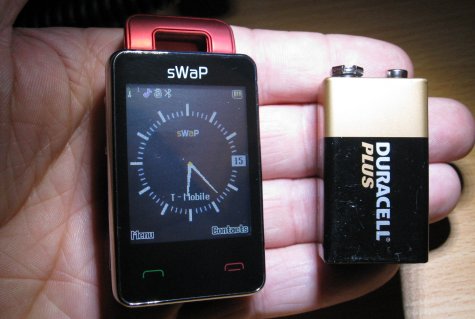 The sWaP Nova, with a battery to demonstrate size
The Nova is a pretty powerful communicator, handling voice, text message, WAP and MMS. With no room for a keyboard, it's driven from a touch screen, either using the supplied stylus (that's not much bigger than a nail), or your fingernail.
Serious thought has been given to the Nova's design - it has a slide-out USB plug (used for charging and data transfer) meaning you don't have to lug a lead or charger around with you, and the USB plug also houses the 2 gig SD card, making it handy as a USB storage device as well as a phone and media player.
The photo below shows the D connector at the Nova's base, used for the supplied stereo headset. This socket also can be used for USB connectivity, although in many cases it'll be preferable to use the slide-out USB connector. You can also see the Micro SD card, which is makes up part of the USB plug.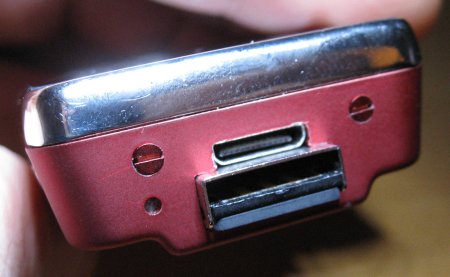 Using the sWaP Nova
Operating the Nova is fairly straightforward. Navigating around is done by scrolling through the six menu options: Contacts, Messages, Call Log, Media, WAP and Settings.
When in idle, the Nova displays a stylish customisable clock face, and holding this down for a couple of seconds initiates the phone number dialling screen, should you prefer to dial manually as opposed to selecting someone from the 500-entry contacts application. There's also basic voice recognition - by holding down the DOWN button for a couple of seconds, you can perform a "Call Mum" style lookup.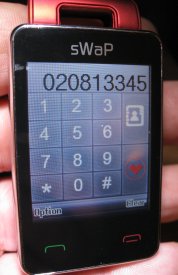 Contacts: The Contacts application is pretty solid. You can add phone, email, fax, birthday and a photo (note there's a 20k image filesize limit), as well as set a custom ringtone. You can also create contacts groups. One thing that may be an issue for those with lots of contacts, is that there's no option to import a contacts list from a PC address book, such as Microsoft Outlook. You can import basic contact information from numbers stored on a SIM card, and you can use the vCard transfer method to send contacts, but there's no accompanying PC Suite to copy entries en masse from a desktop application. Assuming that for most, the Nova is going to be a secondary phone, this is unlikely to be a big deal for most users.
Phone calls? Well, these are surprisingly good on the Nova. You can use the hands-free mode, although you may look a bit silly talking into what's essentially a keyring. The supplied cable stereo headset is fine for the job, but we found using a Bluetooth headset was the best option for us. Speech quality through the headset and over Bluetooth was fine, with no obvious audio or usability issues. The loudspeaker mode was perfectly usable too, which is impressive given the size of the speaker.
Media Player: As well as being a phone, the Nova is a media player, handy for video or audio playback. The media player supports 3GP and MPEG-4 video formats, and MP3, WAV, AAC and Midi audio formats. The Nova can also view JPG and GIF images. You can either use the Nova's built-in speaker, the supplied set of stereo headphones, or use Bluetooth to pair to a set of stereo A2DP Bluetooth speakers or headset (not supplied). The Nova also has an FM radio - the headset needs to be connected for FM to work (the headset acts as the aerial), and you can get FM to play from the built-in speaker, not just from the connected headset.
Using the Nova
In general usage, the Nova's a great little phone. It's easy to forget you've got the phone with you, as it's so diddy. Where size does become an issue is trying to do any serious data entry on the Nova. The screen is obviously small, and typing an SMS text message using the pop-up keyboard can be a little fiddly, especially if you're on the move. Fortunately, the Nova can also cope with letter-by-letter handwriting recognition, so you can create a message by writing on the screen, which for me, worked out as a faster option than using the keyboard.
Making and receiving calls on such a small device wasn't a problem, and the user interface, although a little quirky, gets the job done without much fuss.
| | |
| --- | --- |
| Composing a text message | Playing an mp3 audio track |
Other features: The Nova has a basic WAP browser, for accessing web content that's optimised for a mobile device. It's pretty limited, but perfectly usable for viewing news headlines and basic WAP lookup services. There's also a calendar, to do list, alarm clock (5 alarms), world clock, calculator, stopwatch and file manager. From the Settings menu option, you can set up some Swipe shortcuts, set the phone to power off at set times to preserve battery, set up SIM, phone and keypad locks, and set/adjust user profiles and ringtones.
Any problems? During our tests, we didn't see anything nasty - no crashes or significant oddities with the user interface. Some of the menu options aren't quite where you'd expect them to be - for example, Bluetooth is under "Settings > Organiser" and not under "Phone Setup" where we'd expect to find this. It's important to note the sWaP Nova doesn't work on the 3 network. Inserting a 3 SIM card still prompts you to "Insert SIM". As far as we know, all other UK networks are fine (we tested with o2, T-Mobile and Vodafone with no problems).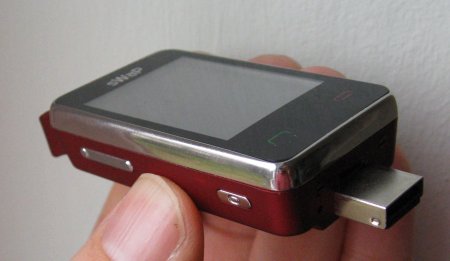 Supplied with?
The sWaP Nova is supplied with the following:
2Gig memory card, 2 styli, carry case, lanyard, carry strap, USB lead, stereo hands-free kit, getting started guide.
The Getting Started Guide supplied with the Nova is a fold-out sheet that just gives the very basics in a number of languages - The full instructions can be found on the PDF file supplied on the 2GB Micro SD card.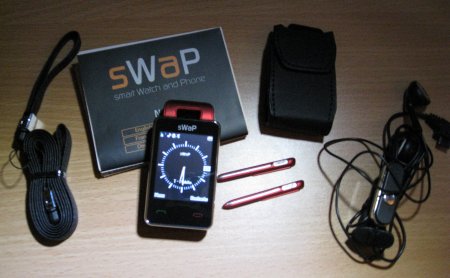 Summary
This is a very impressive and capable little mobile phone, proving that good things do come in small packages. Given the size, you'd expect some reduced functionality - but it's all there - lots of apps not present on larger mobiles, plus solid connectivity.
We suspect that the Nova is unlikely to be anyone's main phone (due to the form factor), but as a secondary phone, backup phone, or just as an impressive gadget to make your friends envious, this is ideal. The fact that it can also double as an FM radio, media player, WAP browser and USB storage device makes the Nova worthy of serious consideration, and if you're travelling light, you'll not find another way to get so much crammed into such a small space.
We're happy to recommend the Swap Nova as a handy lightweight mobile phone / electronic Swiss Army Knife of gadgetry.
Availability: NOW - Available SIM-free from Amazon.co.uk and Find Me A Gift.
sWaP Nova FAQ:
Got a question on the sWaP Nova? Please ask us
Sell your old phone for cash!
Got an old mobile phone handset that you're no longer using? Don't leave it gathering dust - recycle it. You may even be able to make some money for getting rid of your old phone safely.
For a summary of the best deals on making cash from your old handset, try the comparison search tool at www.sellyouroldmobile.co.uk
Other links