Mobile Phone Watches in the UK
Who needs to carry a mobile phone around when you could wear one on your wrist. We look at the options for mobile phone watches.
SWAP Watch
This phone popped up in the UK in November 2008.
This watch is available unlocked for under £250, and is a fully featured mobile phone capable of voice and text, as well as audio and video playback, recording, hands-free calling and a whole host more.
Available now, this works will work with all networks in the UK, apart from the 3 network.
1.3 megapixel still and video camera
Plays back: MP3, MIDI, WAV, AAC, MP4 video
Colour touchscreen 1.5 inch 176 x 128
512 Meg onboard memory (Supports Micro SD cards up to 2GB)
USB, Bluetooth v2.0, GPRS data
Supplied with Bluetooth headset
More on the SWAP Watch? Check out our Podcast SWAP Watch Review.
The SWAP watch is available for under £230 from I want one of those
Audio Review: Check out our Audio Review of the sWaP Watch - FrequencyCast Show 43 | Transcript
LG Watchphone
The LG-Gd910 Watchphone appeared in the UK in August 2009, and is available from Orange.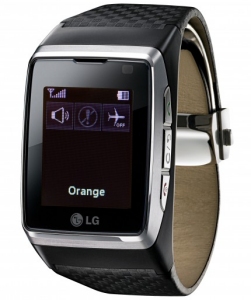 The Watchphone connects to the 3G network, has a scratch-resistant touchscreen. There are eight electronic watch face designs available.
Supports Video calls
Bluetooth
MP3 / AAC Playback
When launched, the LG Watchphone was only available by turning up in person at the Bond Street, London Orange Store.
Available online via the Orange Shop for around £500.