3 Skypephone Explored
A closer look at the Skype Phone from UK operator 3
Network Operator 3 launched their 3 Skypephone in November 2007, and a newer version, the Skypephone S2 appeared in August 2008. On this page, we look at the Skypephone - the phone that lets you make free calls to Skype users.

The Skypephone is a standard 3G mobile with a dedicated Skype button. It can make, and receive, free calls to other Skype users over the 3 data network. It has free Skype Instant messaging too. 3's Skypephone acts as a normal mobile too, and has an MP3 player and a 3.2meg camera. Available free on contract, or under £80 on pay-as-you-go. Skype calls on the 3Skypephone are truly free, there are no calling charges and no data charges to worry about.

It's FREE calls to anyone with Skype, anywhere at anytime. More details on 3's 3 Skypephone page.


Availability: NOW

The Original Skypephone is free on contract, or £39.95 on Pay-as-you-go, directly from www.three.co.uk.


Skypephone 2 is free on contract, or £69.95 on Pay-as-you-go, directly from www.three.co.uk.

Skypephone Features:
Free Skype calls and messages
3G Data (Internet browsing, email, etc)
2.0 or 3.2 Meg camera (stills and video)
Media Player (MP3, video, JPG photos)
Onboard Java (for games and apps)
Bluetooth& USB connectivity
Facebook, Google and Windows Live Messenger
Calendar and Contacts
Voice recorder, Notepad, World time, Stopwatch
3 Skypephone S2 Specifications
Phone: Dual-band, 3G phone.
Dimensions: 102 x 46 x 15 mm
Weight: 95g
Connectivity: USB and Bluetooth.

Memory: 50 Meg internal - expandable to 4gig with micro-SD card
Operating system: BREW
Skypephone Review
This is a review of the first release of the Skypephone (the first version released in November 2007, not the newer Skypephone S2)
Don't let this phone's low price fool you - this is actually quite a powerful and sexy phone. It's manufactured by AMOI especially for 3, and the phone's model number is the WP-S1.
As well as being a standard 3G phone that handles voice calls, text messages, Internet, etc... this is also a Skype phone.
What's Skype? Skype is a voice-over-Internet service, meaning that instead of your phone call going over standard phone lines, it's routed over the Internet, meaning it's a lot cheaper. If you're calling Skype-to-Skype, it's free! There are 170 million Skype users in the world, and from this phone, you can make free voice calls to any Skype user - whether they're on a PC, using wi-fi, or have their own Skypephone. Instead of calling over the standard mobile phone network, this phone use's 3's Internet network, so you can send and receive voice calls between Skype users - a real plus for those with friends and family overseas. More on Skype at www.skype.com
Of course, the 3 Skypephone can make standard calls to non-Skype mobile phones and landlines - they just won't be free.
Anyway - back to the Skypephone. This is a slim, light, stylish phone - we reviewed the Black version, but they're also available in white-with-blue-bit and white-with-red-bit.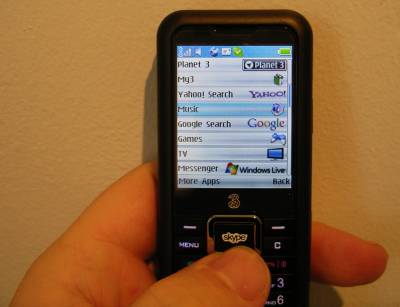 The phone is very easy to use, and is a nice comfy fit in the hand. It has the basic features you've expect on a phone, as well as some useful apps, such as a calendar that you can sync to your PC, notepad, voice recorder, camcorder, stopwatch, etc.
Internet: The Skypephone is not as powerful as some smartphones we've reviewed, but then you're not paying Smartphone prices. Internet browsing is pretty good on this phone. Google is included as standard for basic surfing, and it works perfectly.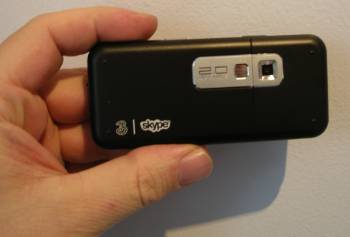 Skypephone rear view
Multimedia: The Skypephone makes a great little MP3 player, and the 256Meg storage card comes in handy for storing music. The Skypephone can also handle video (3PG format) and JPG photos
PC Connectivity: The Skypephone is supplied with a CD that contains a variety of drivers, and a PC Sync application that allows you to sync contacts, calendar, SMS text messages, and media files such as video, MP3 and photos. Here's a screenshot of the Skypephone's PC Sync application in action: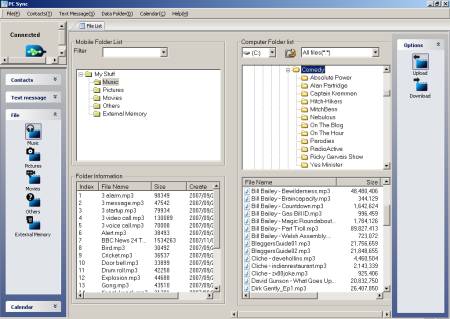 Skypephone synchronisation software
Summary
This is a pretty good phone - the idea of using Skype on a mobile is nothing new, and some phones have been able to run a Skype app for a while, but the simplicity of this phone - with its dedicated Skype button, and the fact that you're not paying for the data.
At £39.99 on pay-as-you-go, or free on contract, this phone is hard to fault - buy two and use them as long-range walkie talkies, or get one to make use of the free Skype if you run out of credit. And the on-device surfing's pretty good too.
Recommended!
Got a question? please ask in our Mobile Phone forum
Supplied with?
The first version of the 3 Skypephone is supplied with the following:
3 SIM Card
256MB Micro SD Card
battery (Li-ion 3.7V 1150 mAh)
Stereo headset with inline microphone
USB data lead
Phone User guide
3 Welcome Pack
SkypePhone Software CD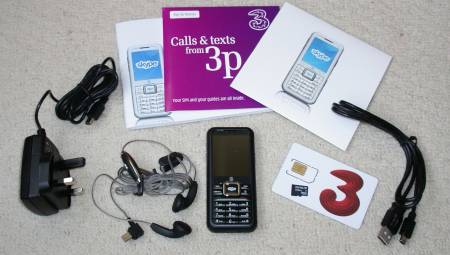 Skypephone Box Contents
Skypephone FAQs:
Voice dial

Site visitor Alice asks: "I have just received the Skypephone . I thought it had voice dial options (i.e. for Bluetooth you can add a voice dial on a contact name to call them). I can't find it? Does it have voice dial options?"

Looks like the Skypephone doesn't have Voice Dial, so you can't dial using voice recognition. Best it has for fast dialling, is speed dial.


Extra memory for the Skypephone
The Skypephone supports Micro-SD cards for memory expansion. If you're looking to buy a replacement Micro-SD card, here are a few online options:

Amazon - Always a good choice for reliable delivery at good prices
eBay.co.uk - bid for new cards at low prices!

For more details, see our Memory Card page

Accessories?

For a good range of mobile phone spares and accessories, we recommend you try Partmaster are great for spare styli, cases, Memory cards, headphones, leads and batteries for many leading mobiles. There's also Dabs.com for spares

If you're struggling to find an accessory for your Skypephone, here are some ideas:

Know of any other accessory suppliers? Let us know?

How do I get to the ringtones settings?
Press Menu, go to Settings > Profiles, select which profile you're in (if you're not sure, it's probably 'General'), press 'Options', 'Edit', then press on the 'Ringtones and alerts' option. Select 'Voice ringtone', and press Change. Then select the ringtone you want.
Skypeout?
Sorry, but you can't make SkypeOut calls from the Skypephone - it's just Skype-to-Skype calls.
Does this phone have vibrate?
Yes - the Skypephone does have Vibrate, which can be set per-profile by pressing Menu, going to Settings > Profiles, select which profile you're in.
Changing the default picture

Press Menu, go to Settings > Phone settings. Select Display, then 'Main screen'. Highlight 'Show wallpaper' and press 'Select'. Pick an image to use.

Camera

Question from site visitor Jack: "does the phone have two cameras, ie one for video calling as well or just the two megapixel one?"

The Skypephone has one camera, the 2 megapixel camera on the back of the phone. Settings for video calls can be accessed from Menu > Settings > Calls > Video call settings

Video calling over Skype is not supported

Can I use the Skypephone in the US?
The Skypephone is a dual-band handset. It won't work on US mobile phone networks.
Recycle your mobile

If you've got an old mobile phone handset that you're no longer using... do your bit for the environment, and recycle it safely. You'll also make some money when you send your old handset back.

Don't leave it in the back of a drawer - see if it can find a new lease of life, and pocket you some cash.

For a summary of the best deals on making cash from your old handset, try the comparison search tool at www.sellyouroldmobile.co.uk



Can I make Skype calls from overseas?
Yes - we understand that you can. Skype calls from the UK are free, but if you're roaming, you'll have to pay data roaming charges. As of April 2008, the charge for roaming is either £3 per megabyte or £6 a megabyte depending on the country you're roaming from. You can see the roaming tariffs at www.three.co.uk. As your call is routed as data, you're not charged by the minute, but by the megabyte. Sorry, but we can't tell you how much a megabyte of Skype equates to minutes.
Can I use the Skypephone as a modem?
Yes - The CD supplied with the Skypephone contains Windows drivers to allow the phone to be used as a USB data modem when connected to a desktop or laptop PC. The drivers are compatible with Windows XP and Windows 2000, but no drivers for Vista. Any news or questions? Please ask in our forum
Unlocking the Skypephone?

The Skypephone is locked to the 3 network, so can't be used with a SIM card from a different mobile phone network operator. Handset network locking is standard practice with phones on many UK networks, to ensure that the network operator ties you to their network until the cost of the subsidised handset has been paid for.

We're not aware that this handset can be used on any other UK network, and we also don't offer any help and advice on this site about phone unlocking, so please don't ask us.

User manual
If you're after a user guide for the Skypephone, try here
Sync Software

The 3 Skypephone comes with PC synchronisation software on CD. We've not found a site offering this for download. If you know of one, let us know.

Update: Thanks to wyzzy for this link: Skypephone software

If 3 supplied your Skypephone without a CD, we suggest you contact the place of purchase.

Got a Mac? The Skypephone sync software is Windows-only. We've been asked if we know of a Mac solution for the Skypephone. Thanks to site visitor Rudoph for the following: "It is possible to connect with the Skypephone via Bluetooth on any Mac, but it is impossible to find the contacts (vcf-file) anywhere on the phone. However it is possible to transfer pictures, sounds and movies from and to the phone." . To discuss this, feel free to use our forum.

What's my Skypephone's serial number?
Enter '*#06#' for your handset's serial number (known as the IMEI) - useful if your phone is stolen