PowerMonkey Portable Power Explored
How often has your mobile phone battery run out when you're on the move? Carry a Power Monkey in your bag, briefcase or car for a rechargeable power boost.
What is the PowerMonkey?
The PowerMonkey is a handy portable power supply that can be used to recharge your mobile phone, MP3 or portable games machine. Charge the PowerMonkey, carry it with you, and use it to provide a power boost without the need for a mains charger.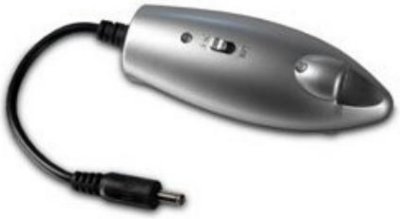 Here's what the Power Monkey Classic does:
Up to one year's standby charge
Portable power for your mobile phone, music player or games machine on the go
Power connectors for common phones, iPods, MP3 players, smartphones, iPhone, USB etc
PowerMonkey Availability:
The PowerMonkey Classic is available for around £30 from:
A solar-powered version, the eXplorer is also available.
Supplied with Power Monkey Classic:
Power Monkey

Carry case

Universal Mains charger

Tips (see below)
Tips provided with Power Monkey:
iPhone and iPod

Nokia and Mini-Nokia

Motorola V66

Samsung A288

Siemens C25

Sony Ericsson

Mini-USB for Motorola RazR, Blackberry and many Windows Mobile devices

USB for many smart phones, PDA and other devices
Sony PSP
Other connectors (inc Nintendo DSi are available)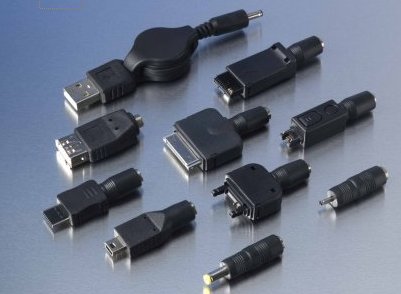 We're impressed with the Power Monkey (the big brother to the PowerChimp). Well worth getting, and a great gift for your gadget chums.
Power Monkey Classic Spec:
Dimensions: 88 x 39 x 37mm
Battery Capacity: 2200mAh
Output voltage: 4.5 to 5.5V
Weight: 70 grams
Instructions on how to use the Power Monkey Classic:
To switch on the Power Monkey, flick the switch - Green light will flash (if red, recharge!)
To recharge, switch off the unit (no flashing light), then connect to mains. LED will turn red while charging, green when charged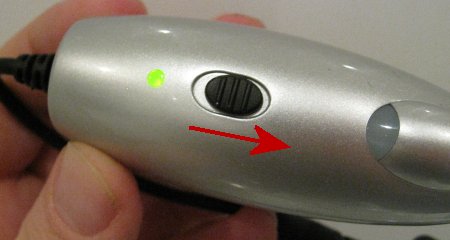 Power Monkey Classic switched on - note green flashing LED
Charging the PowerMonkey:
Question: "I've just bought a Power Monkey. When I turn it on (there's no green or red light just an LED display showing three stripes) and connect it to my device, nothing appears to be happening. Also, I cannot see a way of connecting the three-pin UK plug to it." (From Bob Chaundy)
The version with the bar graph is not a PowerMoney Classic, it's a Powermonkey eXplorer (solar power and/or mains power. Either version of the PowerMonkey does need to charged before it can be used. If it's not working, it may not be charged, or switched on. As for plugging it into the mains, the plug goes into the round charging socket, as shown in the image below: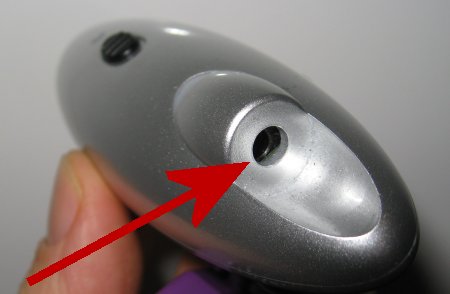 Power Monkey Classic charging socket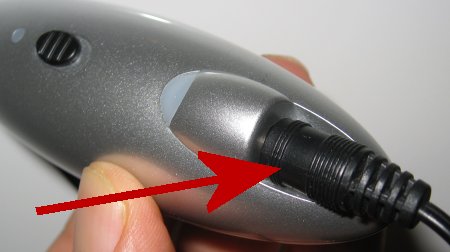 Power Monkey with mains lead plugged in
Got a question on the Power Monkey? Ask us!
Useful Links: