Stoway Charger Tidy Review
Our look at a top product that helps keeps your mess and clutter to a minimum
What is the Stoway?
Rather than reviewing the latest mobile phone or handheld computing device here will be looking at a very simple product design to debate our lives that little bit easier.
Below is a picture that will be familiar to many of today's tech gadget owners... the bottom drawer full of adapters and cables for mobiles, digital cameras, laptops, sat navs and the array of gizmos that require power.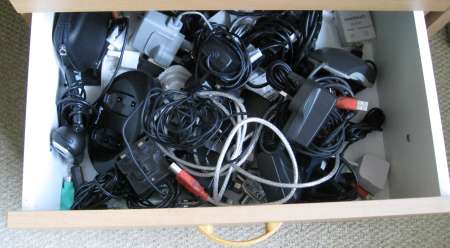 The product we're looking at today is a simple one. Called the Stoway, this is a cleverly-designed mains charger tidier. An amazingly simple idea that makes storing and transporting mains adapters so easy - no more tangled wires or messy bottom draws.
Essentially, these are cleverly molded plastic triangles, into which you insert the three prongs of your mains adapter. You then wind the charger's cable around the molding and slide down a small plastic bar to lock the cable securely in place.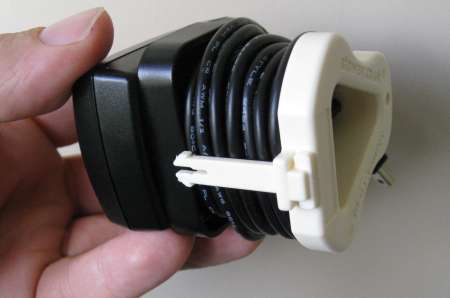 Practical upshot is that within 20 seconds, you can coil up a mains adapter, safe in the knowledge. It won't get tangled, won't take up too much space in your bottom drawer, and can fit neatly into a travel bag, should you be travelling.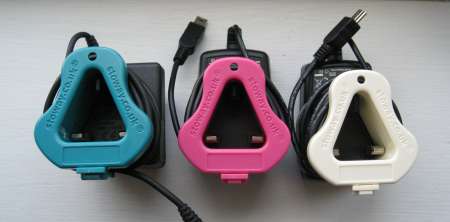 The Stoway Charger Tidy is available in a pack of three, supplied with six labels that you can stick on to your mains plug for easy identification.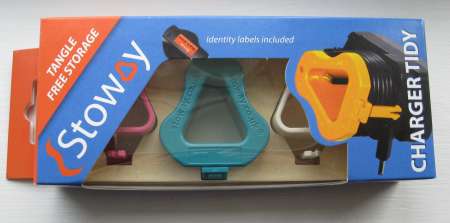 Designed and manufactured in Britain, the Stoway is perfect for home, the office, or for travelling, and are available in a range of different colours. We're surprised not to have seen the Stoway featured on Dragon's Den yet! At FileSaveAs, we're happy to snap up the Stoway as a novel solution to one of today's tech troubles.

Stoway Cable Tidy UK Availability:
At the time of writing, Stoway is only available by mail-order from the manufacturers. More details can be found at www.stoway.co.uk
Other Handy Gadgets: