Novatel MiFi 2352 - Portable Wi-fi Base Station Reviewed
We look at the MiFi 2352 pocket-sized wireless hotspot from Novatel Wireless
What is the MiFi 2352?
It's a rather handy, and tiny, wi-fi base station. Insert a SIM card of your choosing , and the MiFi uses that SIM to connect to the Mobile Internet, then make that Internet connection available as a wi-fi hotspot.
There are three strong advantages to using this over other mobile Internet options:
Up to five devices can share the wi-fi signal
No software to install on the machines
Works on devices without a USB slot (games consoles, iPod touch, DSi, etc), as well as laptops and nettops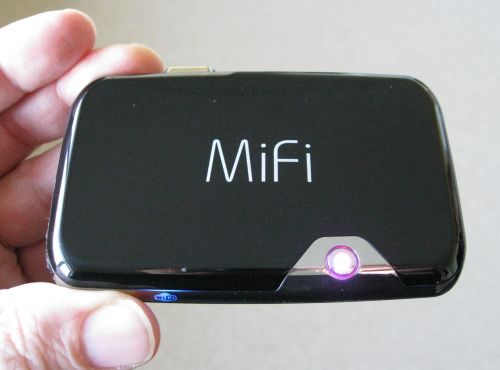 Where do I get one?

Novatel MiFi 2352 UK Availability:
The Mifi 2352 from Novatel wireless can be purchased either SIM-free, or on a contract:
SIM-free: Available from Amazon
How does it work?
First, pop off the cover on the back.
Next, insert a SIM card. We tested with SIM cards from 3 and o2 with good results.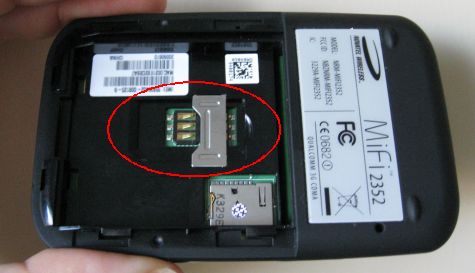 Rear of Novatel MiFi 2352 with SIM Card Slot highlighted
Then, hold down the power button on the front of the MiFi.
For us, that was all we needed to do. The light on the front goes green if it has a GPRS connection, blue if it has a 3G connection, or violet if there's an HSPA connection. There's also a WiFi light that's blue if it's on and available, or blue/flashing if someone's using it.
The MiFi worked out of the box for us with a 3 SIM card, but in some cases, you may have to enter the connectivity settings yourself, as we'll cover slightly later on this page.

Novatel MiFi showing the WiFi and Connection lights
How to connect a device to the MiFi
Assuming the MiFi is on and can connect to your mobile phone network, you then need to get your PC, PDA, phone or other wi-fi device to connect. Again, for us this was straightforward. Browse for available wi-fi networks, and MiFi should appear as MiFi_2352, as shown below.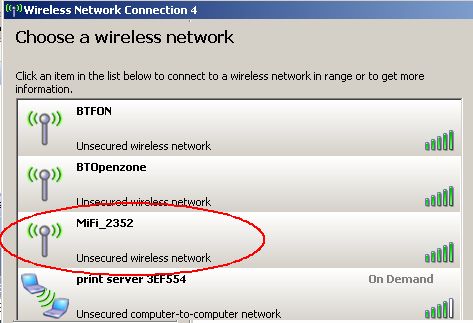 By default, the MiFi is set up as an insecure ad-hoc access pint, which means it's easy to connect without having to enter in any kind of security key or password. You can set a secure 64-bit WEP key if you're after some security.
Clicking on the MiFi_2352 access point took us straight onto the net, so we were up and running on our first try after around 309 seconds. Impressively simple.
Novatel MiFi 2352 Settings:
If you need to do anything more advanced with this MiFi, such as enter connection settings for other networks, turn on wireless security or check usage, you'll need to "log on" to the MiFi.
To do this, you make a wireless connection as we outline above, or alternatively connect using the supplied micro USB lead. Once connected, go to the web browser and type in http://192.168.1.1
That's the default IP address of the Mi-Fi and takes you to the device's software interface, as pictured below: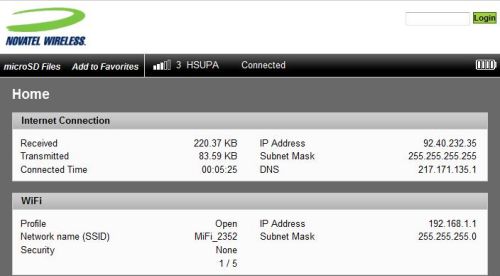 Novatel MiFi 2352 - Main Web Screen
This gives you information about your current connection, battery and data usage. To get to the settings, you'll need to enter a password into the box at the top right. The default login password is "admin", which you can change.
Once logged in, there are four menu headings to play with: WiFi, Internet, Router and System. Here are a few things you can play with:
Enable wi-fi security (64bit WEP only)
Filter by MAC address (trusted clients)
Disable SSID broadcast
Port filtering
Port forwarding
Change default IP address and subnet mask
Micro SD file sharing (read/write or read-only)
Enable DHCP Server
Enable VPN Passthrough
Power Management (shutdown if idle for between 2 and 60 minutes)
Logging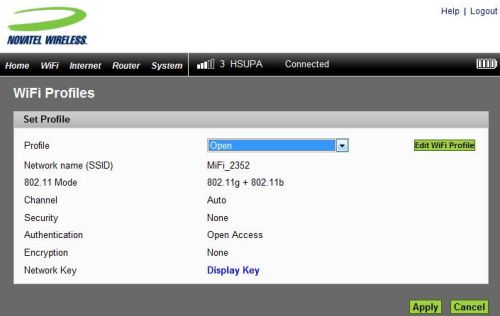 Novatel MiFi 2352 WiFi security
The only setting that you may need to adjust, is the mobile Internet access details. Each mobile phone operator has a set of settings for their GPRS / 3G mobile access. This is typically an APN (Access Point Node), plus a username and password. You can add the Profile for your mobile phone provider from the "Internet" menu option. Below is a screenshot of the APN entry page. Need the APN settings? See our List of UK APN Settings.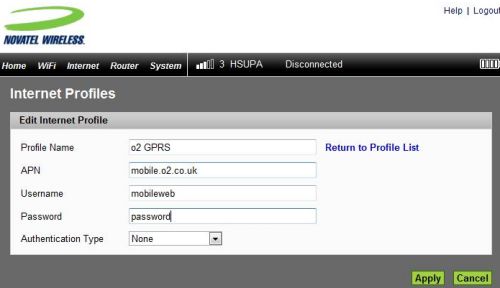 Novatel MiFi 2352 APN setup screen
Summary
Billed as "The world's first intelligent mobile hotspot", the MiFi 2352 doesn't disappoint. Easy to use, speedy out-of-the-box setup, and with some powerful settings to play with for the more advanced user. The other nice touch is the inclusion of a microSD slot. Add a card (size up to 16 Gigabytes), and you can share the contents to connected wi-fi users.
We're more than happy to recommend the MiFi 2352 as a top portable wi-fi base station
Novatel MiFi 2352 Specifications:
wi-fi: 802.11b/g
Networks: HSPA, UMTS, EDGE and GPRS
Weight: 81 grams
Dimensions: 95 x 60 x 14 mm
Battery: 3.7V 1530mAh 5.66Wh Li-Ion Rechargeable. Four hours use.
Expansion: microSDHC slot (up to 16GB)
Range: Up to 10 metres
Supplied with - USB cable, A/C charger, quick start guide
What do the Power Lights mean?
Flashing red: Low battery
Solid Red: Device error
Flashing Amber: Charging
Solid Amber: Fully charged
Flashing Green: GPRS available
Solid Green: Connected using GPRS
Flashing Blue: 3G Available
Solid Blue: 3G Connected
Flashing Violet: HSPA available
Solid Violet: Connected using GPRS
What does the Wi-Fi LED mean?
Solid blue - Wi-fi on, but idle
Flashing - Wi-fi on with connected users
Mobile Broadband Links: