BT Infinity Explored - Super Fast Broadband
Looking for a faster connection? BT Infinity offers super fast broadband connection. Some information on the BT Infinity high-speed Broadband Internet service.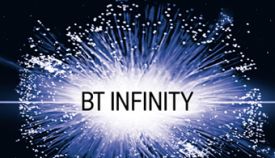 What is BT Infinity?
BT Infinity launched in January 2010 as the first step in BT's plans to roll out high speed fibre optic data connections to homes and businesses. See the BT Infinity site for an overview.
Initially, BT Infinity was only available in a few areas of the UK, but coverage is beginning to increase as BT continue to expand its fibre optic network across the UK.
By the end of 2010, BT was aiming to have around 4 million homes and businesses able to connect to super fast Internet using BT Infinity. 40% of the UK should be covered by mid-2012.
BT Infinity offers speeds of up to 40 Megabits per second - twice as fast as BT Broadband's best speeds. This will make for better Internet TV streaming services such as BBC iPlayer, faster downloading of content, iTunes downloads up to seven times faster, and up to 30 per cent faster online gaming.
How much does it cost?
There are two BT Infinity option packages:
Infinity Option 1: Up to 40 Meg downloads. Up to 2 Meg uploads. Maximum downloads a month 20 gig. Cost: £20 a month on an 18 month contract. Free installation. £50 activation
Infinity Option 2: Up to 40 Meg downloads. Up to 10 Meg uploads. No monthly download cap. Cost: £25.60 a month on an 18 month contract. Free installation. Free activation
BT's competition?

BT Infinity is going head-to-head with rivals Virgin Media on price. Infinity Option 1 is £7.47 per month cheaper that Virgin Media's XXL package. BT Infinity also offers a much faster upload speed of up to 10 megabits a second (currently the fastest in the UK).
Virgin has been quick to point out that Virgin's top speed is 50Mbps, compared to Infinity's 40Mbps, and their service is available now to a 12.5 million homes - far more than BT Infinity. Infinity is still a cheaper option though. To check out the Virgin 50Mbps service, go to www.virginmedia.com
How can I get BT Infinity?
It's only available to a small part of the UK, and only 40% of the UK will be able to get the service by mid-2012.
To see if you can get up to 40 Meg broadband where you live, go to www.bt.com/infinity.
Installing BT Infinity
An engineer's visit is required (free of charge). The engineer will connect you to BT's fibre optic network. You will be provided with a BT Infinity Home Hub and a BT Infinity vDSL modem.
BT advise that you should allow 3 hours for installation.
If you're in a coverage area, book installation at www.bt.com/infinity.
BT Infinity FAQ:
Infinity Welcomes Careful Drivers
While all the tech press have been opting for Disney Pixar's "To Infinity and Beyond" as a headline... we prefer the following: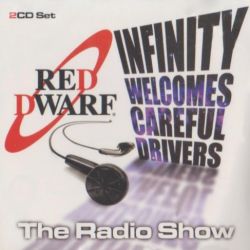 Infinity Welcomes careful Drivers - a Red Dwarf novel
Useful links: