TomTom Traffic and Travel News
If you own a TomTom Sat Nav, you might be able to make use of live traffic news data to correct your route and help you avoid travel hotspots. On this page, we help with using travel news data on your device.
Traffic Data on a TomTom?
There's nothing worse than being stuck in traffic, but if you own a TomTom satnav device, you may be able to use a live travel news service to alert you to upcoming traffic problems and accidents, and to automatically change your route to avoid incidents.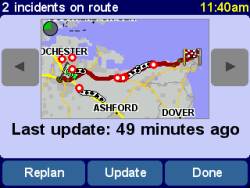 There are a few ways that traffic news can be downloaded to your TomTom Sat Nav, and we explain them on this page.
Traffic news with TomTom Traffic HD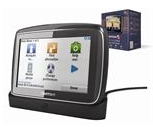 In late 2008, TomTom Traffic HD launched. The following TomTom Sat Nav devices launched with the Traffic HD service:
TomTom Go 540 (map of UK)
TomTom Go 740 (map of Europe)
TomTom Go 940 (map of Europe, US, Canada - also with FM transmitter and MP3 player)
In 2010, a new device, the TomTom Go Live 1000 appeared offering an improved touch screen and over-the-air traffic HD.
These TomTom Sat Nav units include a built-in Vodafone SIM card, and use a mobile phone subscription to get live traffic information. These are the first truly connected TomTom devices, and they offer huge potential for getting up-to-the-minute data on your satnav.
TomTom Go Sat Navs with Traffic HD are available from:
Halfords
, and
Argos
TomTom Traffic on a Smartphone:
Rather than owning a dedicated sat nat device, using a navigation app on your smartphone is a great option - it combines the navigation features with the ability to get via data over the mobile phone network. The iPhone is obviously one of the most well known smartphones on the market, and TomTom is available (with live traffic) for this phone. Here are a couple of screenshots:
| | |
| --- | --- |
| TomTom Traffic alter, with option to minimise delays | TomTom Traffic displayed on an iPhone map, show current road speeds |
You can download the TomTom iPhone app from the App store: TomTom for the iPhone
Traffic News via a Bluetooth mobile phone:

If you're happy to pay a subscription for your road traffic news, and you have a mobile phone that can connect to the Internet, you may be able to get your TomTom receiver to update routes based on travel information received from your mobile. For this, here's what you'll need:
A TomTom satnav that supports Travel News over Bluetooth
A mobile phone that supports Bluetooth
A mobile phone that can make an Internet connection, and has a suitable data account
Traffic News via FM radio signal:
If you have an FM car radio, you may be familiar with RDS - This is the system that allows a radio station to "push" a traffic announcement out to drivers - an RDS travel flash will make your radio change channel or pause a CD temporarily to let you hear the announcement. This system is called RDS (Radio Data System).
In the UK, there's an extension to this service, called RDS-TMC
You can use this with certain TomTom receivers, but you have to buy the TomTom RDS-TMC adapter lead, pictured below. You can buy these from amazon.co.uk and Expansys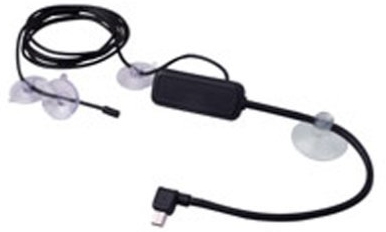 TomTom RDS-TMC Traffic Receiver
TomTom Traffic HD adapter
In 2008, there was talk of a UK launch of a traffic adapter, which would add real-time traffic info to existing TomTom Go devices, such as the TomTom Go 720.
The HD adapter has been launched in some parts of Europe already, but it looks like we may not see this in the UK. The HD adapter connects to your cigar lighter (for power) and has a built-in mobile phone receiver and SIM card. Essentially, it's a mobile phone receiver that connects directly to compatible TomTom units and updates routes with live travel information over-the-air.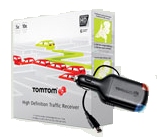 We originally heard that this would be launched in the UK in Q4 2008, but we've since heard unofficially that this probably won't launch in the UK, instead TomTom will push their TomTom Go units with built-in SIM cards. More on this when we have it.
TomTom Traffic FAQ