TomTom Go Live 1000 UK Review
Information on the TomTom Go Live 1000 Sat Nav device. Find out what's new with TomTom's redesigned in car satellite navigation device
In October 2010, the new-look TomTom Go Live 1000 hit the UK. This represents an upgrade to earlier models of TomTom's Go family, and introduces some under-the-hood changes. Here's our first look at the retail version of the Go 1000.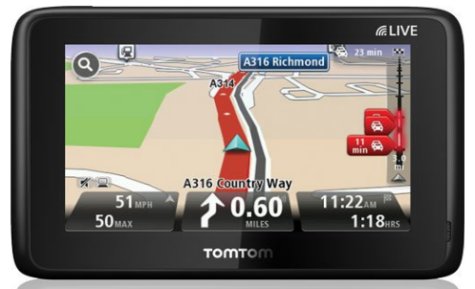 What does the TomTom 1000 offer?
Fluid 4.3" touch screen
HD Traffic plus live services over-the-air
Magnetic in-car holder
TomTom Home 3
Hands-free calling
Voice command
Google Local Search
TomTom Go 1000 Review
We've had our hands on the Go 1000 for a few days now, and opinions here are mixed.
The screen is superb - clear, and generally responsive. The live traffic information is generally pretty accurate, and route recalculation is fast, at least when compared with our old favourite, the TomTom Go 720.
There are a few downsides though. We're looking at the first UK retail version here, and it has a certain "unfinished" feel about the software. For a start, a bunch of features are "coming soon", including speed camera updates, map share, adding voices and backup up to PC. We've also had a couple of crashes (no pun intended.
As with other TomTom sat navs, new versions of operating system are released now and then, and fixes can be installed via a connected computer. Hopefully, we'll see a release soon that starts to add some of the functionality you'd expect from a high-end TomTom product.
Go 1000 Changes
The other big under-the-hood changes are also worth noting for those familiar with older TomTom products. When connected to a PC, earlier versions of their sat navs act as external drives, meaning that you can browse the contents of the filing system and install MP3 music files, photos, POI databases and voices.
Not so with the Go 1000. Rather than dragging files or using TomTom Home 2, the interface is now web-driven - You install a small file, and all updates are handled using a web browser. Slightly slicker for the novice, but less good for the more advanced user who wants to squeeze extra functionality out of the device.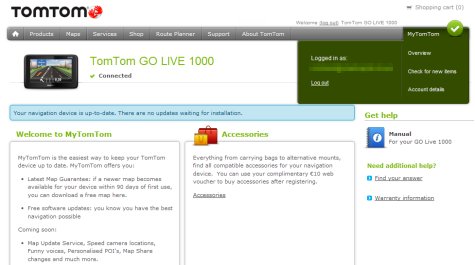 TomTom's New Web Interface
TomTom Go 1000 Interface
The touchscreen does make interacting with the maps very easy - with scrolling and selection being similar to standard smartphone navigation.
We did find the touchscreen keyboard entry a little more tricky than on older TomTom devices, which is a little disappointing - it felt like the screen was slight off calibration. Opting for speech input overcomes this, and speaking in your target address seems to work pretty well.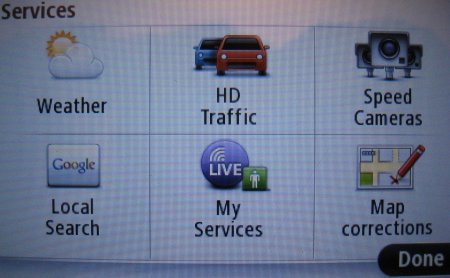 The TomTom Go 1000 Services Screen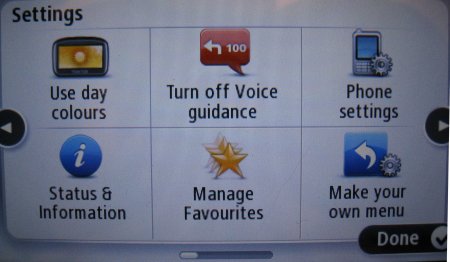 The TomTom Go 1000 Settings Screen>

TomTom Go 1000 Connectivity
TomTom Live devices have a mobile phone embedded - You can't use this to make and receive voice calls - it's there to get data over-the-air using the mobile phone network (in the UK, that's with Vodafone).
The TomTom does a good job of getting live traffic data, as well as access to Google Local and weather data.
The connector at the bottom has changed - from a standard mini USB socket, to a non-standard TomTom plug. Given that mini USB connectors have been increasing in popularity, this sudden switch to a proprietary connector seems to be a backward step, although the magnetic connector does make plugging in a lot simpler.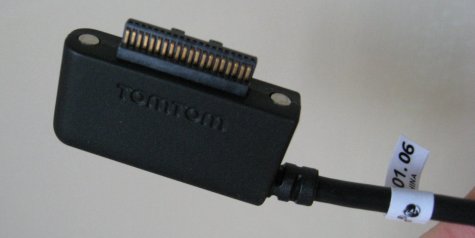 The TomTom Go 1000 Live Connector



The TomTom Go 1000 Live Underside

Mounting TomTom 1000 in Car
The TomTom Go 1000 makes use of a new magnetic car mount - and it's pretty good: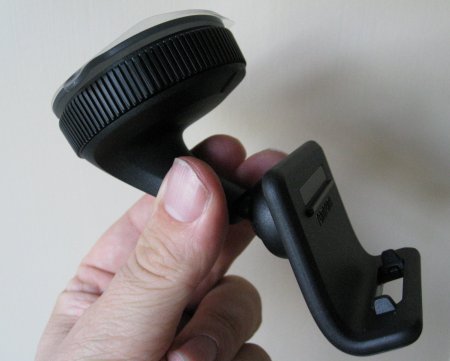 The TomTom Go 1000 In-car holder
TomTom Go 1000 supplied with:
The TomTom Go 1000 comes with a flimsy getting started guide, in-car charger, USB connector lead and the magnetic car mount: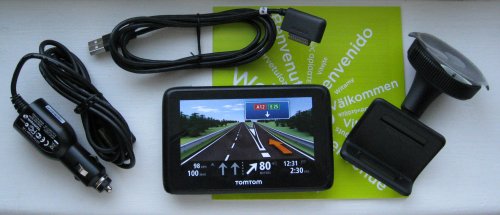 The TomTom Go 1000 Box Contents
TomTom Go 1000 Summary:
Hardware's great. The first release of software has "issues" and some missing features, which is a shame.
We'll reserve judgment until a new version of OS is released, and until features like Map Share Corrections, speed camera updates and backups are supported. Until then, it's hard to recommend.
Got a question about the Go 1000? Get in touch
TomTom Go 1000 Accessories
TomTom has released two cases for the TomTom Go Live 1000 - a standard case and a slightly more expensive leather case:
| | |
| --- | --- |
| TomTom Go 1000 Standard Case | TomTom Go 1000 Leather Case |
For other TomTom Go accessories, we're happy to recommend Expansys, as they stock a wide range of cases, car mounts, cables, chargers and other stuff at decent prices