Samsung Steel L810 Explored
This page contains information on the Samsung Steel L810 handset, which launched in the UK on the Vodafone network in July 2008.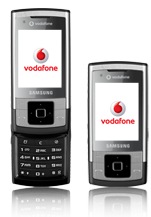 The Samsung Steel handset launched in July 2008.
When we first heard that this phone was due out, we got very excited, as it was rumoured to have a built-in DAB Digital Radio. Sadly, it seems that it only comes with an FM radio. Shame.
The Samsung Steel is available in the UK exclusively on Vodafone.
Samsung Steel - Key points:
High-speed HSDPA Internet access
3 Megapixel camera
Tri-band
Samsung Steel Specs:
Display: 2.2 inch, 240 x 320 pixel colour screen
Camera: 3 megapixel
Radio: Built-in FM radio (seems the rumours of onboard DAB Digital Radio were wrong)
Expansion: Micro SD storage card slot
Navigation: four-way navigator
Battery: 30 Meg
Dimensions: 104.2mm x 48.9mm x 14.2mm
The Samsung Steel handset became available in the UK in July 2008, exclusively on the Vodafone network.
Pricing:Free with a £15 a month contract online at www.vodafone.co.uk