Motorola TA200 Information and Advice
A short page of information on the rugged Motorola TA-200 Walkie Talkies
Review of the Motorola TA200 Walkie-Talkie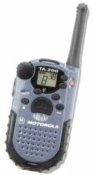 I still have fond memories of my first 'walkie-talkie' many, many years ago - chatting to my friends at the other end of the garden with a device that required line-of-sight to get anything more useful than static. Shouting often worked better.
OK, so I'm a big kid at heart, and I bought myself a set of TA200's around 8 months ago partly on a whim. Since I've had them, I've found them very useful, and have been able to justify the expense as they've got me out of some tight spots.
The models I have are a deep blue colour (out of blue or yellow, this was the less grim colour - I'd have preferred black) and are very effective. I was expecting something close to line-of-sight, but can achieve a good mile-or-so vehicle-to-vehicle in my built-up town. I also use then when cycling with my partner, and can get an even greater distance when out in the countryside, unhindered by lots of concrete.
Quite battery-friendly, the manual states that around 20 hours can be expected from the three AA cells. The TA200 has eight channels (446MHz), with 38 'interference eliminators'. I've never had the need to stray from the first channel that I entered back on day one. Other features include 'hi-lo' microphone gain, hands-free use, optional headset (I use the Earbud for handsfree cycling) and a backlight that stays on for 5 seconds when a button is pressed. An impressive handset with a nice rugged feel.
Maybe not the most attractive device, but a great performer. My only regret is that the transmit button is on the front, and not in the more traditional left-hand-side position... presumably the central position is better for both left and right-handed users.
Motorola TA200 Manual
We couldn't find the user guide for these Motorola Walkie-talkies online, so we've posted a copy as a JPG image file. Select Part 1 or Part 2

Other links