Mitex General Two-way Radios Reviewed
Our look at the Mitex General Professional two-way radio, a powerful 5W portable radio.
If you're looking for a set of handheld 'walkie-talkies' that offer more power than the standard PMR walkies that are on the market, you might want to consider the Mitex "General" devices.
Two of our team need to keep in contact over a fairly short distance, and have previously used a set of Motorola walkie talkies for the purpose. Frustrated by the limited range, they've opted for the Mitex, and here are the team's findings.
Mitex Two-way Radios?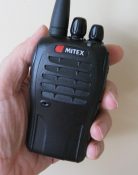 There are four sets of two-way radios in the Mitex family - "General", "Business", "Site" and "Security" - the main difference between the models appears to be the frequencies used. Here, we're looking at the "General", which is the only product currently sold by Mitex as a two-pack.
They're easy-to-use, lightweight, durable, and they don't require any special programming to use them.
Better than a PMR?
If you browse the shelves of Currys or Maplins looking for a set of walkie-talkies, you'll actually be looking at what's known as PMRs (Personal Mobile Radios). PMRs operate in the 446MHz frequency range, and don't require any kind of licence for use in the UK. They're fairly low-power (0.5 watts), which explains why the range can be limited, especially in built-up areas.
That's where the Mitex differs from the more common PMR devices. The Mitex radios operate on a different set of frequencies, and boast a 5 watt transmitter - meaning they're ten times more powerful. As a result, you have to have a licence to use them.
If you've ever been frustrated by the range of traditional walkie talkies, then using a set of 5 watt devices does make a difference.
Mitex General Specifications:
Range: Maximum 10km (city) or 25k (country) - best conditions
Dimensions: 100 x 52 x 28 mm
Frequency: Between 449.3MHz and 449.4MHz UHF
Weight: 300 grams
Channels: 15 (using CTCSS/DCS)
Power: Built-in rechargeable battery - 1300mAh Lithium Ion
Mitex "General" Availability:
These two-way radios are available in pairs from:
Mitex General Review:
We've been impressed with the Mitex radios - simple to use, and with a far better range that some of the standard PMRs that we've tried. The Mitex General has a rotary dial to allow selection of one of the 15 preset channels, as well as a rotary on/off/volume control. The only other two controls are the push-to-talk (PTT) on the left of the radio, and a smaller "monitor" button below that allows the squelch to be bypassed (to help pull in a weaker signal).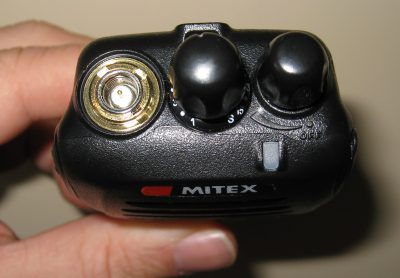 We like the simplicity - there are no complex on-screen controls, call buttons, mode selectors and menus which are found on many devices (such as the Cobra MT975). Switch it on, tune to the channel, and you're off. The only "bell and whistle" is the sixteenth channel, labelled "S" which is a Scan channel - when set to "S", the radio will scan all of the channels, stopping when it finds a channel that's modulated.
The only other piece of "user interface" is the LED. Red when transmitting, occasional green flash when idle, and red when the battery is low.
Range
Quoted maximum distances for two-way radios normally assume a "clear line-of-sight" with no obstacles, which in the real world is not how two-way radios are used. Accordingly, the maximum ranges stated have to be taken with a pinch of salt. Given than many 0.5 watt 446 PMRs boast a range of several miles but don't deliver this kind of range under normal use, we were hopeful that the ten-times more powerful Mitex radios would be a great improvement.The "best case" maximum range stated by Mitex is 25km (15.5 miles) in the country, or 15km (9.3 miles) when used in a city environment.
In practice, the Mitex radios are a definite improvement over cheaper PMR devices, but not 10 times better when we tested them. We tried a side-by-side test of the Cobra PMR vs the Mitex General with no major obstructions, and got a realistic 2 miles from the Cobra, and 5 miles from the Mitex. Hardly the 9 to 15 miles we were hoping for, but still an improvement, and the extra power of the Mitex means that the received audio is a lot clearer with less break-up than on a standard PMR.
Aerial
The Mitex general uses a 15cm removable flexible rubber antenna optimised for the 400-470MHz range. It uses a standard miniature SMA connector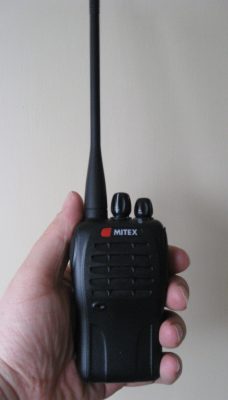 Battery
The Mitex General uses a rechargeable 1300mAH Lithium-Ion battery that can be removed. It's charged in the supplied base unit (two chargers were supplied in the pack) and can be charged whilst connected to the radio, or on its own.
Site visitor Jim asked the following: "Could you please comment on battery performance for Mitex General Radios, i.e. average battery life between charges and time to recharge." Neither the manual nor the Mitex website lists these, so we tried a test. Charge time from almost flat was around 2 hours. We left the radio on standby, and after 36 hours, the radio is still able to transmit. There is no battery life meter on the radio, so we can't get an accurate feel for the radio's battery life. It seems that in standby, the radio enters a pretty efficient power-saving mode.
Earpiece and mic
On the right-hand side of the radio, under a rubber flap, are two sockets - one for a mic and one for a headset. The Mitex radios can be used with third-party headsets - although note that there appear to be three types of headset connectors on the market - a "generic" type, a "Motorola" type and a "Kenwood" type. Mitex use the Kenwood connector type.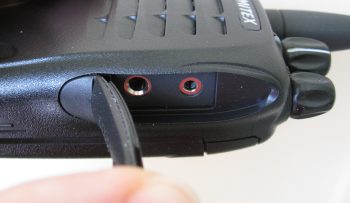 Other features:
TOT - Time out Timer - Kicks in if you leave the unit in transmit for a long period of time
Battery save - If inactive for 10 seconds, goes into battery save - reception of a signal, or pressing Push-to-Talk restores full power
VOX - Can use used with a vox-enabled headset to transmit without pressing the Transmit button
To use radios that use the frequencies and power used by the Mitex devices legally in the UK, you'll need a licence from the UK regulator Ofcom. The actual licence needed is a "Business Radio (Simple UK) licence", which costs £75 for five years. The licence covers unlimited handsets, and you don't necessarily need to be a registered business to apply for a licence.
You can apply for the licence online, or using the short form supplied in the Mitex radio box. From our experience, it took about a week to get the licence from Ofcom. Details and form can be found on the Ofcom Licensing Site.
Supplied with?
Our Mitex General twin pack came with:
Two radios
Two base charger units with 12V 0.3 amp power supplies
Two removable belt clips and wrist straps
16 page instruction manual
Ofcom licence application form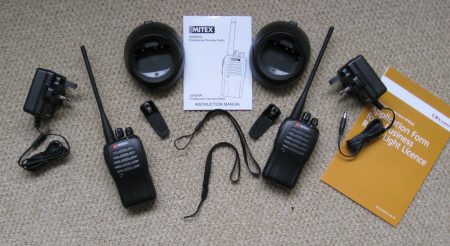 Summary
Although we didn't get the range that we were hoping for, these are great little two-way radios. Idiot-proof operation, good audio quality, durable and reliable. Of the 15 channels available, channels 13, 14 and 15 are shared across all Mitex radios, so you can use these channels to talk to a Mitex "Business" or "Security" from a Mitex "General".
We're happy with the Mitex, and they're hard to fault. If you're frustrated with the range of cheap-and-cheerful walkie talkies, these are ideal.
Something we've not covered? Got a question? Please ask us
Other links