Cobra MicroTalk MT975 13km Walkie Talkies Reviewed
We try out the MicroTalk MT975 walkie talkies and check out the range and features on these two powerful two-way radios from Cobra
What are the Cobra MT975 radios?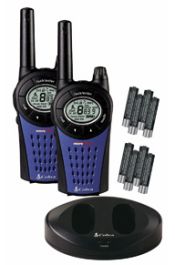 They're a set of well-specced handheld radios - great for a number of purposes - keeping in touch when out-and-about, handy for walking or cycling, and of course, as great boys toys.
When you were a kid, would you have killed for a set of talkie-talkies that would reach your mate's house, or even when you went round a corner?
Today's PMRs have a decent range, and this set appear at first glance to offer potentially the longest range without needing a licence.
Walkie Talkie with top range of 7.5 miles
8 channels and 121 privacy code settings (CTCSS and DCS)
Call tones (10 different call tone effects) and vibrate
Roger beep
VOX (transmit when it hears audio)
10 channel memory
Can be used as a baby monitor
Dual Watch (monitor two channels) simultaneously
Requires no licence in the UK
Cobra MicroTalk MT975 Availability:
These two-way radios are available in pairs for under £60, from:
Cobra Microtalk Specifications:
Range: Maximum 12km (7.5 miles) - best conditions
Length : 170 x 58 x 41 mm (with belt clip)
Weight: 4.2 oz
Frequencies: PMR 446
Power: 4 x Rechargeable AAA batteries (non-rechargeable can also be used)
Channels: 8 with 121 privacy code combinations (CTCSS and DCS)
Screen: Backlit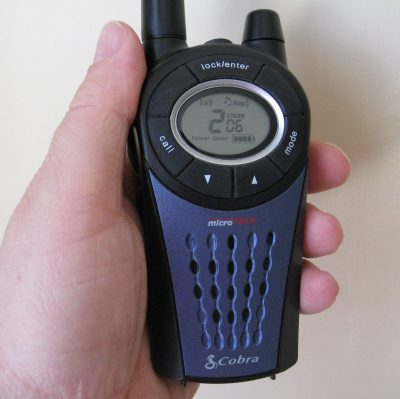 Using the MicroTalk MT975
Using the MT975 for comms is very straightforward. Essentially, find a clear channel and press the Talk button on the left of the handset. There are a few extra settings that you may want to play with though:
Maximum Range Extender
The MT975 has "auto-squelch" - this removes background noise and interference, but it does mean that it can filter out a weak signal that you may need to hear. You can disable auto-squelch to get the maximum range, but you'll hear the background "white noise".
To disable auto-squelch, Press and hold the LIGHT/MAX RANGE button (on the left) for at least five seconds until you hear two beeps
Privacy Codes
The Cobra MT975 supports two privacy options, CTCSS (Continuous Tone Coded Squelch System) and DCS (Digital Coded Squelch)
You can set a CTCSS privacy code (38 codes are available), or DCS (83 codes available).You can use either, but not both, to ensure that you're not on the same channel as others. DCS is digital coding and CTCSS is analogue.
Press the Mode button until CTCSS or DCS appears. Then use the up and down buttons to select a code, and press the Enter button

Cobra MT975 User Manual?
You can download the MicroTalk MT975 User manual from Cobra's site: MT975 Download Page
Other links