Packard Bell PocketGear 2060
This model hasn't been around for some time now - See our Pocket PC page for our current best buy.
This page has been left here for use by existing PocketGear users
Mini-review: Packard Bell PocketGear 2060 / NEC MobilePro 300E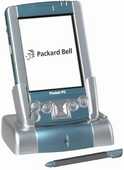 OS: Pocket PC 2002
Expansion: SD Card slot
Display: 240x320 pixel touchscreen
Memory: 64MB memory (with 32MB Flash ROM)
Navigation: Touch screen, four-way navigator, Jog dial
Battery life: Rechargeable, lasting greater than 8 hours
Size: 125 x 76.8 x 14.8 (mm)
Connectivity: USB cradle

Packard Bell's first Pocket PC palmtop, the Pocketgear 2060, was released in May 2002. It's slightly smaller, slightly lighter, and with it's light blue metal casing, it's altogether more colourful that the more common Compaq IPAQ Pocket PC. Due to its size, it's also a comfortable 'hold', with the handy jogwheel on the left-hand side helping to make navigation around the software nice and easy.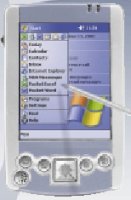 The left-hand side of the machine also has a one-touch record button, and a recessed reset button. The top of the unit has a headphone jack, infrared window, microphone, on-off button and two LEDs: one for event notification, and the other to indicate charging. The short and stumpy stylus initially raises an eyebrow, but telescopes out to be long enough to be useful, although it's still not long, nor as comfy a hold, as other PDA styli.

The Pocketgear 2060 runs Pocket PC 2002 operating system with applications including Pocket Outlook, Pocket Word and Pocket Sheet. As you'd expect, Calendar, Contacts, Task and email synchronisation with the PC is effortless, with a simple one-press to copy across data, and also collect web pages via your PC's Internet connection and the built-in Avantgo software.

Expandable via the single SD slot on the top, and supplied with a USB cradle and Microsoft® Active Sync 3.5 software to allow connection to a PC, this initial offering from Packard Bell looks good and works well, and is hard to fault.

Packard Bell site: packardbell.co.uk

Availability: No longer available. Consider a different PDA, or better still, a smartphone.
FAQs
| | |
| --- | --- |
| Where can I get accessories? | Partmaster appears to be the official source for spares. Alternatively, try Dabs.com or you can try bidding for a bargain on eBay.co.uk. If you have no joy, Expansys can sometimes help, alternatively, contact Packard Bell |
Other Links