Packard Bell imax mini Explored
Our look at Packard Bell's tiny sub-desktop "nettop" PC, running Windows 7
What is the imax mini?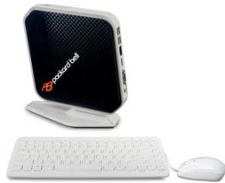 Calling itself a "nettop", the imax mini from Packard Bell is a small, quiet and rather nice little PC.
We picked one of these up for the FileSaveAs office as we need a PC running 24-7 that's quiet (for podcasting), small, and low-energy. This little chappie from Packard Bell fits the bill nicely. It has an Intel Atom processor (normally found in netbooks), an impressive six USB ports, is virtually silent, and is also reasonably priced. Here, you'll find more about the imax mini.
Up front, we have to admit some confusion over the model number we're reviewing here... The unit itself is labeled as the imax mini N3600, the box it came in calls it the imax mini C2520UK, and the place we bought it, our local PC World, calls it the imax mini 2510UK. So we're not 100% sure!
Packard Bell imax mini 2510UK Availability:
You can get the imax mini from the following online retailers:
PC World - Under £230 (click and collect available)
See also: Acer Aspire Revo R3610
imax mini 2520UK Specification:
Processor: Intel Atom 230 (1.6GHz, 533MHz FSB, 512KB Cache)
Memory: 2 GB DDR2
Hard Drive: 160GB
OS: Windows 7 Home Premium 64-bit
Graphics: NVIDIA ION
Size: 192 x 192 x 36mm
imax mini 2520UK Connectors:
Network: 10/100/1000 Ethernet port
USB: 6 ports
VGA video out
HDMI out
SD card reader
eSATA socket
3.5mm mic and speaker sockets
Packard Bell imax mini C2520UK Review
We've been surprised at how fine a piece of kit the imax mini is. Sure, it's not as fast as a high-spec desktop PC, but as a small, quiet an unobtrusive PC, this is close to perfection.
It seems that in the UK, you can only get this via the Currys / PC World group, which isn't a problem, and for under £230 at the time of writing, it's a bargain.
Our reason for buying one of these was simple - we needed a small PC that could run all day and all night running a number of USB devices that stream content to the Internet. This includes a weather station, a home security system, a webcam, and capture software for a Current Cost energy meter. We wanted something cheap, small, and very quiet.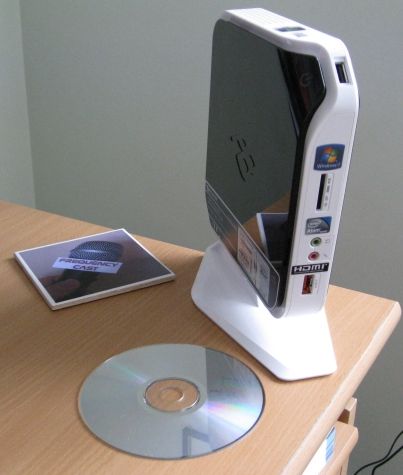 The imax mini is a tiny little unit - pictured here with a CD for scale (although note that the imax mini is too small to have a built-in CD/DVD drive).
Key for us was the number of connectors - an impressive 6 USB ports certainly comes in handy, and it has an HDMI socket for connection to an HD-Ready TV set, which makes this a handy using if you're looking for something to live in your lounge as a PVR hard disk recorder or media centre. This certainly wouldn't look out of place in a lounge, and it's ultra quiet, making it ideal as a TV companion.
Here are a few pics of the three sides (the fourth is for the desk stand):
Packard Bell imax mini front, side and rear views
For us, the only real unexpected shortcoming, was the lack of built-in wireless connectivity - netbooks and mobiles come with 802.11 wireless as standard, so why not the imax mini? Buying a cheap wi-fi USB stick isn't a problem, and the basic Belkin stick we picked up from PC World for £30 works perfectly with the imax mini, but we find it odd that wi-fi's not there as standard. There is an Ethernet socket, if you're in a position to connect via cable to your router.
Speed and performance has been pretty good - obviously, this is not intended as a games machine, but it's great with streaming video, the NVIDIA graphics card performs well, and bootup is pretty nippy. The supplied keyboard and mouse are basic (and small), and you may look to swap these out if you're going to do lots of text entry from the mini.
Generally, hard to fault the PB imax mini.


View showing the power button / light
Supplied with?
The Packard Bell imax mini is supplied with the following:
Mains lead
Desk stand
Quick Start Guide (55 pages)
White USB mini-keyboard
White USB mini-mouse
Mounting block to allow fixing to the rear of a monitor
Software loaded: Norton Internet Security 2009, Nero 9 Essentials, Adobe Photoshop Elements 7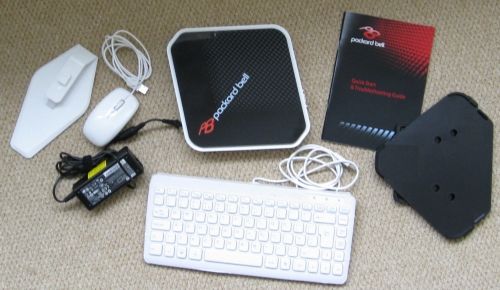 Packard Bell imax mini Box Contents
imax mini with Windows 7
When we first saw this on the market, it was loaded with Vista, but the 2010 version comes preloaded with Windows 7 Home Premium. For what it's worth, here's what Windows 7's My Computer has to say...
imax mini Summary
We're impressed. For what we need, a 24-7 small, quiet base unit, this is tops. A decent price, an acceptable spec, good connectivity and decent memory / storage. The lack of onboard wi-fi was a surprise, but nothing to worry about.
If you need a quiet standalone PC for your home office or your lounge TV setup, this is a great choice.
You can get the Packard Bell imax mini now from PC World
Packard Bell imax mini FAQs:
Got a question on the Imax Mini? Please ask