Four home hubs in one house!
This layout was built and tested by BT Beta forum contributor John Parker.
All Hubs are running firmware 6.2.6.E at time of writing.

To print this article please use mouse to select page in sections. Print each section using File/Print then select "print selection" (or similar) from your printer's options.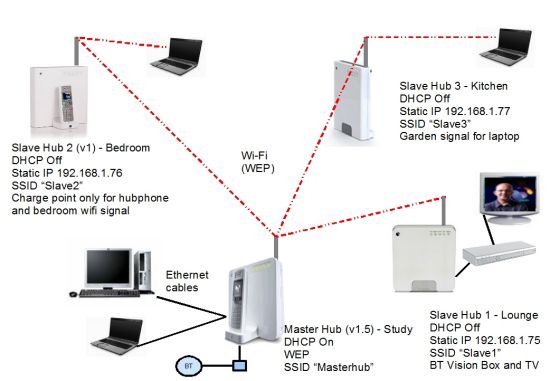 The basis of the above setup is that three slave hub are installed in various parts of a large house where distances are too great for a typical single Home Hub wi-fi.
The significant requirements are:

Slave hubs to have their DHCP disabled.

Slave hubs to have their own fixed IP address within the master hub's private pool range.

Each slave is connected by WDS to the master in star formation .
Detailed Procedure
Use the process described in my wireless repeaters article. That article comes with many warnings - this is for experimenters only!

Set up all the slaves first using three different IP addresses, and I would recommend 192.168.1.175 and .176 and .177 then seek them in turn from the master as described in the main article.
Citations
Regarding a query about 2 slaves, one of which should serve a BT Vision box...
"Thanks for that Jarviser - In fact it only took me 2 hours to set up 1 master and 2 slave hubs - easy peasy - Regards Paul" (Paul H. by email Jan 2009)
Acknowledgements
Contributor "John Parker" on
BT's "Beta" Forum
. who tells me (May 08) that he now has 4 slaves and one master!
Related Content
Page created by "Jarviser" & hosted by FileSaveAs. See the Jarviser Home Hub Index Page
If you've found the content of this page of use, and want to say thanks, Jarviser's charity of choice is Great Ormond Street Hospital. Please visit their site to make a donation
Got a question about the BT Home Hub? Please ask in the FileSaveAs Home Hub Forum
Disclaimer: Content on this page was not originated by FileSaveAs, and is hosted 'as-is' as a service to Home Hub users. FileSaveAs accepts no responsibility for the content on this page. Visitors use information on this page at their own risk. Contents may not be reproduced without permission. Original copyright for content on this page rests with Jarviser unless otherwise stated. FileSaveAs Site Terms apply.