Three home hubs in three houses!
This article is strictly for experimenters!
It's not even one I have tried myself but a contributor to this forum posting has got this arrangement to work. Windows network has been set up and it allows file sharing etc. According to the poster all networked kit is shown in the network displays on all the PCs.

To print this article please use mouse to select page in sections. Print each section using File/Print then select "print selection" (or similar) from your printer's options.

You should first read about using home hubs as a wireless repeater connection before continuing. All the setup method is in there.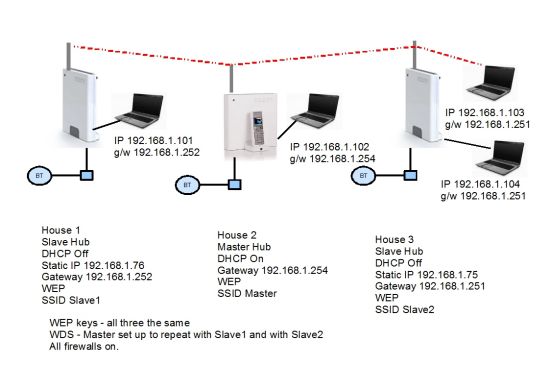 The basis of the above setup is that two slave hub are installed in neighbours houses, each of whom have BT broadband in their own right. They don't have to be family, but I suggest they should at least be trusted neighbours, because it would be very easy to use a neighbours' internet connection!
The significant requirements are:
All PCs to have static IP addresses in the usual range 192.168.1.64 thru .237
Slave PCs to have their DHCP disabled.
Slave PCs to have their own fixed IP address within the above range.
Significantly an additional change is for the slave hubs to have their Gateway IP Addresses changed to ones in the range 192.168.1.238 thru .252
All the PCs connecting to the hubs need to have a fixed gateway IP in their network connection properties fixed to match their own hub.
For security,all firewalls remain enabled.
I am assuming that The DECT telephony and some other BT features on the slave home hubs cannot be used. However I have it on good authority that functions that rely only on ethernet, such as BT Vision, do work.
Don't write to me - experiment!
Acknowledgements
Contributor "richy" on
Home Hub Forum
.
Related Content
Page created by "Jarviser" & hosted by FileSaveAs. See the Jarviser Home Hub Index Page
If you've found the content of this page of use, and want to say thanks, Jarviser's charity of choice is Great Ormond Street Hospital. Please visit their site to make a donation
Got a question about the BT Home Hub? Please ask in the FileSaveAs Home Hub Forum
Disclaimer: Content on this page was not originated by FileSaveAs, and is hosted 'as-is' as a service to Home Hub users. FileSaveAs accepts no responsibility for the content on this page. Visitors use information on this page at their own risk. Contents may not be reproduced without permission. Original copyright for content on this page rests with Jarviser unless otherwise stated. FileSaveAs Site Terms apply.