GPS Watches Explored
You have GPS in the car, and GPS in your phone - what about GPS on your watch? Know where you are, and where you've been with a GPS watch
GPS in a watch?
Why would you want GPS in your watch? There are two main reasons why strapping GPS to your watch are a good idea:
Where are you and where are you going: Whether you're a rambler wanting to get to your next waypoint, or you want to find your way back to the car in the car park, a GPS receiver is a handy gadget
Keeping fit: Those interested in keeping fit should give serious consideration to a GPS Sports watch. When you go out jogging of cycling, these watches can track your speed, distance, location and pace, and export that information to a PC as needed. Who needs a cheapo bike computer, when you can get accurate information on your watch that's very accurate and very exportable. Add your heart rate to the mix, and this is a very powerful fitness tool.
Audio Review: Check out our Audio Review of the iPhone Sat Nav applications - FrequencyCast Show 43 | Transcript
Our Top GPS Watch
Here are FileSaveAs, we tested several GPS-enabled watches, and our favourite was the Garmin Forerunner 405 GPS Fitness watch.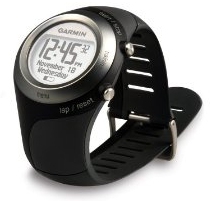 Garmin Forerunner 405 GPS Watch

GPS watches from Garmin, Polar and Timex available online from www.fitsense.co.uk - Pick up a Garmin Forerunner 405 at a low price, with fast delivery.
Garmin Forerunner 405 Reviewed
We gave the Garmin 405 a full workout in show 43 of our podcast, and were very impressed. The Forerunner 405CX was also been voted Number One Sports Watch by The Gadget Show in 2009.
Here's what the 405 does:
Heart rate monitor (a strap that sits around your chest)
GPS - Enter waypoints and navigate your way there
Track your journey. When you start a training exercise, the watch tracks were you were at any given time, and what your heart rate was showing
Wireless export to PC - Use the supplied USB dongle and your watch will send exercise and GPS data wirelessly automatically
Garmin 405 GPS:
With a fast lock and accurate positioning, this is a great GPS receiver. Not much hanging around waiting for a lock, this is an impressive and accurate receiver. If you're using it on a bike, use the optional bike mount to ensure you're getting the best possible lock.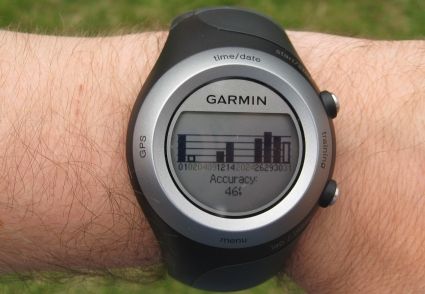 Garmin 405 showing satellite information
Garmin 405 for exercising
Enter your weight, gender and a few other vital statistics, and the watch can be a serious boon with exercises such as running, biking and indoor cardio. If you wear the heart rate chest strap, real-time information is sent wirelessly to the watch and you can see your exercise time, current and average heart rate, distance, calorie burn, exercise zone and a host of other metrics.
Top feature is "auto pause" - stop running, or stop at lights on your bike, and you can set the watch to pause your recording automatically. There's also a "virtual partner" (using previous workouts) as a pace setter.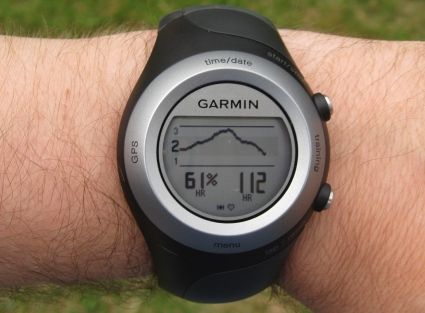 Garmin Forerunner 405 Heart rate graph
Your data on a PC
Once you've been out and about with your Garmin 405, walk in range of the USB receiver plugged into your PC, and the Garmin ANT software will find your watch automatically, download the latest data, and import it into the supplied Garmin Training Center application, or the online Garmin Connect service.
in our opinion, Garmin Connect is the best of the two, as your data is stored online to be viewed anywhere, and there's integration into Google Maps.
Below is a screenshot of Garmin Connect showing a bike ride - See where you were at any given moment, what speed you were doing, and your heart rate. You can use the Player to replay your outing, seeing your heart rate climb as you go uphill, and being able to compare a workout against previous sessions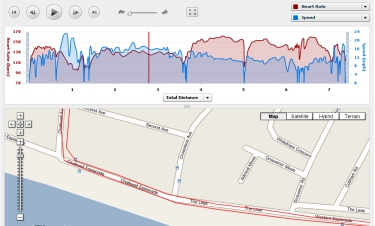 Garmin Connect - Your results on a PC
Garmin 405 Summary
We're impressed. This is definitely the best of the bunch for GPS and Heart rate watches. The Forerunner 405 has a built-in rechargeable battery, holds up to 1000 laps, and has a seamless wireless sync. The watch is backlit, and navigation is achieved by touching the touch-sensitive bezel. A quality piece of kit, well worth a look.
Update: The Garmin Forerunner 405 was voted top Sports Watch in their show at the end of August 2009.
You can get the Garmin Forerunner 405 direct from Garmin Store, or for a better price at fitsense.co.uk
Your questions
Got a question on the Garmin forerunner 405, or need help? Ask us
GPS Links:
GPS Tutorial - Help, advice and links on GPS
Looking for GPS units, leads and adapters? Try Maplin, Dabs.com or Amazon. For a real bargain, take a look on eBay.co.uk
Getmapping - If you're into maps and navigation, take a look at the overhead images, maps, digital photos and CDs that this mapping firm has to offer
Fitbit - Wireless fitness tracker, clever gadget to keep you trim
Sat Nav on the iPhone - Turn your Apple mobile into a Sat Nav for under £30