Backing Up Your Data
Keeping a safe copy of all of your valuable PC data is hardly fun, but it is important. Explore some of the easy ways to keep your digital life secure.
Some Scary Statistics
Here are some stats we've discovered:
Accidental Deletion - 43% of people lose irreplaceable files every year.
Theft or Loss - Only 3 out of 100 stolen laptops are ever recovered.
Disaster  - Thousands of files are lost each year to fires, floods, and other disasters. Your hardware may be insured, but is the data protected?
Drive Failure - Up to 13% of hard drives crash in their first year.
How safe is the following?
Your address book, mobile numbers and calendar data?
Your life's collection of digital photos?
Your MP3 music collection, camcorder files and movies?
Letters, spreadsheets, databases and financial records?
How do I keep stuff safe?
OK - we've convinced you that backups are important... so how do you take backups? Rather than reading this page, you might prefer to hear our audio feature on how to take backups.
How to take backups - Podcast feature in FrequencyCast Show 47
Basic Back-up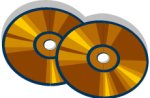 Got data on your PC you want to keep safe? The basic way to do this is to burn a copy of your important files onto a DVD or CD, and keep them offsite.
If you need a good software solution for creating CD and DVD backup disks, we'd recommend the Nero package available from Amazon or Play.com.
Standalone hard drives
These connect via USB2 and come with built-in software to allow you to create a backup of your desktop or laptop. There are two big players in the external drive market:
Seagate FreeAgent desktop drives. These come with encryption, connect via USB and are available in a range of sizes
Western Digital Passport drive - Slightly more stylish than others on the market, and some models come with a nice visual indicator of what's backed up. Password encrypted.
| | |
| --- | --- |
| Seagate FreeAgent 500GB - £55 from PC World | Western Digital Passport 320GB - £50 from PC World |
Owning a backup drive is no good unless you use it to back up files regularly, and it's best to try to automate this task if possible. We recommend SyncBack as backup software. This lets you set up scheduled backup tasks. You can create a series of tasks and decide how frequently they will run and what will be archived. SyncBack is a $30 dollar piece of shareware from 2 Bright Sparks. There's a 14 day trial version available - 14-day SyncBack Trial.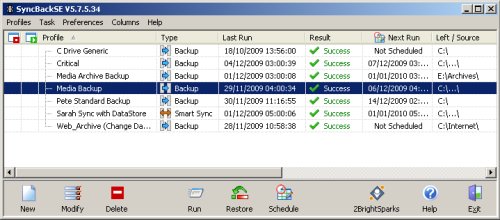 SyncBack Backup Software
Click Free Drives
These USB backup drives make backing up your data a breeze. No software to install and no complexity. Plug a Click Free drive into a spare USB slot and it will automatically back up your photos, music, video, email, documents and important files.
Click Free drives backs up over 400 file types. They can be used on Windows XP, Vista, Windows 7 and Mac OSX systems.
| | |
| --- | --- |
| ClickFree 160GB Drive - £63 from PC World | ClickFree 1TB Drive - £160 from PC World |
NAS - Network Attached Storage
These are intended to connect to a home network and allow any connected machine to back up to secure storage, They are also commonly used as media sharing devices, so that you can share and stream music and video from any device on the network.
Pictured here is a Linksys Media Hub which connects to a router via high speed Ethernet. It has a web interface, automatic backup software, supports 3 simultaneous HD streams, encrypts data, has a spare drive slot and also can act as a printer server.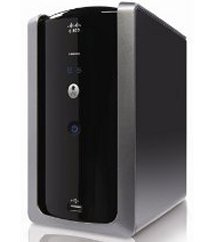 Linksys Media Hub 500GB - £170 from PC World
Firesafes
A low-priced option for the cautious. Buy a small firesafe and store your backup drives, DVD backups and other valuables such as passport and driving licence. The one pictured here is only £40 and is guaranteed to withstand temperatures of up to 840ºc for 30 minutes.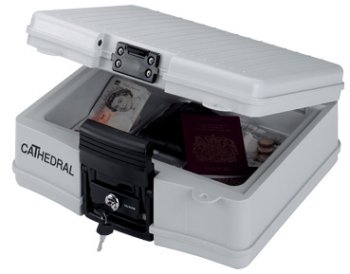 Cathedral Document Fire Safe - From Staples
Online backups
To keep your data safe, you really need to keep it off-site. Having a backup drive is no good if it's attached to your PC stolen / damaged. You should ideally aim to keep your important stuff held securely offsite. Typically, you'd use a secure online storage service for this. Here are three worth a look:

Mobile Phone Backups
As well as backing up your PC... don't forget the data on your mobile - phone numbers, diary, photo collection and music. Most phones allow you to sync to a PC. You might also want to consider a SIM card backup gadget...
| | |
| --- | --- |
| Combined card reader, with software for SIM backup. Under £10 from Dabs.com | SIM backup keyring with screen - under £10.99 from Amazon |
Other links