Acronis Online Backup Reviewed
Want to keep your data safe? You'd better keep it online. After trying two or three different online backup services, we're now using Acronis. Here's a summary if our findings so far.
What is Acronis Backup?
Acronis offers a range of different backup products for home and business.
We've been trying out the "Acronis Online Backup" product, which offers low-cost, efficient and secure backup.
The basic Online Backup service allows up to 250GB of data to be backed up and lets you archive data from up to 5 PCs. The data is heavily encrypted for your protection.
Also it's a US firm, UK pricing is supported, and at the time of writing, the service is priced at under £40 a year.
The user interface is very good - nice and easy to select what files you want to back up, and generally well thought-out. Running the first backup is a very slow process though - and that's simply an issue with broadband. Broadband in the UK is optimised for downloading content. While you may be on an 8 or 20 meg download speed - you may find your upload speed is 256kpbs or 512kbps, so uploading a gig of data is an overnight job. Restoring is, of course, a lot faster.
A free trial of Acronis, is available from www.acronis.co.uk/homecomputing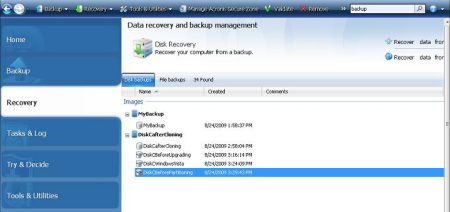 The Acronis Online Backup Main Interface

Other links