o2 Joggler Explored - UK Review and Spec
Details of the o2 Joggler, including a summary of what all the fuss is about, hardware specs, plus our UK review
What is the o2 Joggler?
The o2 Joggler launched in the UK in May 2009 - marketed as a replacement for your fridge door.
The o2 Joggler has a touch screen with a series of simple icons to allow you to check a shared o2 Calendar, view photos, listen to music, and stay up to date with news, sport, travel and weather. You don't have to be an o2 customer to get or use the Joggler.

The official o2 Joggler site is at shop.o2.co.uk/joggler
o2 Joggler Functionality:
Calendar: Keep a family calendar for all to see
Photos: View and share your pics
Video: Playback video clips
News: Up-to-date headlines from Sky News
Sport: Sporting updates from Sky Sports
Traffic: Check out travel news - road speeds from Traffic Master
Weather: Before you head out, check the forecast
Music: Play back your favourite tracks
Media streaming: Play audio and video, and view photos, from your PC's hard drive
Other features: Calculator, memo pad and alarm clock
Games: Well, Suduko...
Messages: Send and receive SMS text messages
Radio: Internet Radio - free access to over100 online radio stations
App Store: Add extra apps, such as YouTube, Google Maps and loads of games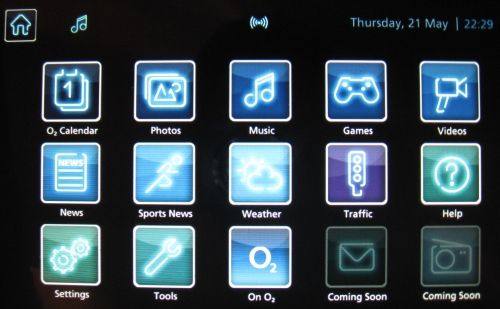 o2 Joggler - Main Menu
o2 Joggler Specification:
Connectivity: Wi-Fi
Screen: 7 inch Touchscreen
Resolution: 800 x 480 pixels
Memory: 1 Gig onboard, expandable via USB.
Power: Mains only.
Video formats: MPEG-2, MPEG-4 part 2, MPEG-4 part 10 (H.264), WMV 9, DivX, Vc1, FLV
Audio formats: MP3, WAV, WMA
Size: 180 x 130 x 115mm.
Weight: 700 grams
o2 Joggler - UK Availability
o2 Joggler UK Review
The o2 Joggler popped onto our radar in May 2009. Available exclusively from o2, this is intended to take pride-of-place in the kitchen or lounge of connected modern family types.
If you'd rather hear an audio review of the Joggler, take a listen to Show 41 of our podcast.
Our hands-on test shows that this is actually a very nice piece of kit - well-styled, and more useful than first impressions lead you to believe. Will it do well? Not if o2's marketing team has anything to do with it - firstly, the name "o2 Joggler" - it gives no indication of what the product actually does - and the TV advert that heralded the launch is hardly much better. The product is portrayed as an alternative to a fridge door - which is exactly what it isn't.
What it is, is a well thought-out digital picture frame, with full multi-media support, access to an online calendar, and with one-button access to news, sport, road conditions and weather. Load up the Joggler with up to 1gig of your favourite family snaps, tunes and video clips (via USB), or even share the contents of your PC's media library using wi-fi, then use it to show a slideshow of photos, and check the state of the world before trekking off to work in the morning.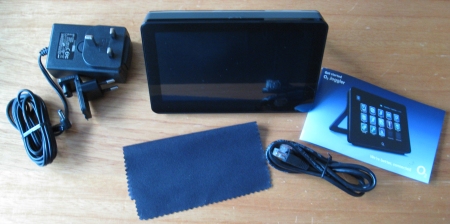 o2 Joggler - What's in the box?
Using the Joggler
Setup is a doddle - Out of the box, the unit starts up, and asks you to connect using wi-fi, or by connecting the supplied Ethernet cable to your home's Broadband router. We went 'wi-fi', and the Joggler detected our access point, asked for our security key and was off and running. Before letting us play, it was time to update it's software. After a download and reboot, we were up and running.
First, we were asked for a name, email address and an o2 phone number - something to do with support and registration, according to the manual.
Once that's done, using and navigating the Joggler is pretty easy.
Here's a look at the software applications available for the o2 Joggler:
Joggler's o2 Calendar
The Calendar is the central app for the Joggler. It's an online calendar service available from http://o2family.o2.co.uk/o2calendar . Create a calendar for your family, with individual logons, and you can see your shared calendar both online and on the Joggler.
You need to have an o2 online account (which you can get without having to be an o2 customer) to use all of the features of the Joggler Calendar. Text message event alerts will only go to o2 mobile phone users.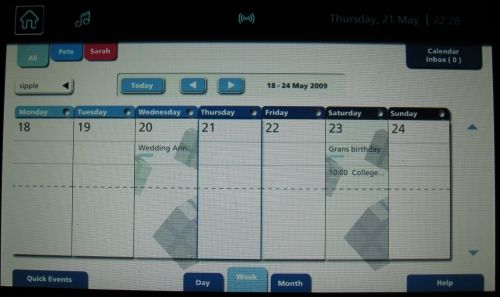 o2 Joggler - Calendar view
Weather
Get the current and upcoming weather for the UK - select your home town from a list of major UK towns and cities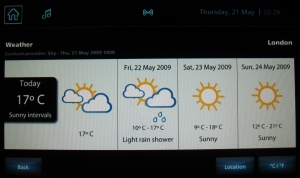 o2 Joggler - Weather Screen
News and Sport
A selection of news and sport stories from the Sky newsroom are available with a single tap of the icon.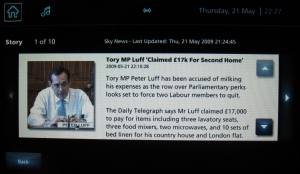 o2 Joggler - Sky News Headlines
Road news
The Travel service gives information on road speed from Trafficmaster sensors that are dotted around our motorways and A roads - little icons with current speed conditions on a scrollable map of the UK make checking road conditions pretty easy.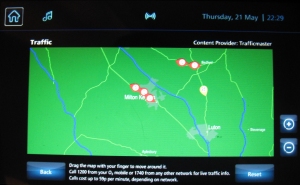 o2 Joggler - Live road data from TrafficMaster
Media - Photos, Music and Video
The photo and music service is easy to use, with images, sound and video loaded via the USB memory slot on the right-hand side of the Joggler.
If you have a PC in your house that's on, running Windows Media, and connected to your home network, you can also use Connect and Play to streaming music, video and photos from your PC to the Joggler. Help setting up Connect and Play
Messages
Send and receive text messages on the o2 Joggler. Nifty! You're allowed to send 50 text messages per month for free.
Internet Radio
This application was supplied as a free over-the-air update in mid-November 2009. The Joggler's Internet Radio service is supplied courtesy of digital radio manufacturer Pure's "The Lounge" streaming radio service, and at launch offered over 100 free streaming radio station.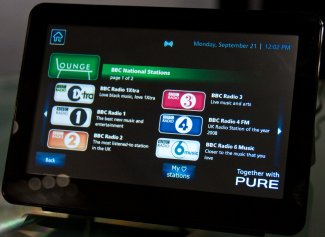 o2 Joggler - Live road data from TrafficMaster
Settings and tools
There are a few other features tucked away under the Tools menu - Alarm clock , Calculator , Memos and "Connect and Play" (which lets you stream music, video and images from your PC wirelessly).
Under "Settings", you'll find network setup, screen brightness, audio volume, screensaver (with the option to show a slideshow of photos, a clock, or "off")
Joggler App Store
In April 2010, a software upgrade to the o2 Joggler added "App Store". This allows you to add free or paid-for apps to your Joggler. The free apps include Google Maps, Google Calendar and a YouTube player.
Summary:
We've been using the o2 Joggler for several weeks now, and find it very useful. We're mainly using it as a quick way of checking the news, weather and travel before heading out in the morning. It also makes for a great scrolling digital picture frame when we have guests visiting. Diary functionality is good although it's a shame that there is no way of importing or syncing a diary from other source - hopefully something that o2 will address.
In all, we're pretty impressed with what we've seen. The unit, although oddly marketed, is very capable, and very useful. Nice to be able to load up a decent amount of music and photos, and a handy way of checking data without the need to fire up a PC.
Music playback is a nice feature, although the speaker's not wonderful. In November 2009, we saw the welcome addition of Internet radio, with the promise of more new applications on the way - proving that the o2 Joggler is a useful and powerful device capable of becoming a very usable home entertainment hub.
All in all, we're happy with the Joggler, and we're happy to recommend it. You can listen to our audio review on Show 41 of our podcast.
If there's anything you'd like to know, please ask us.
For more on the Joggler, go to shop.o2.co.uk/joggler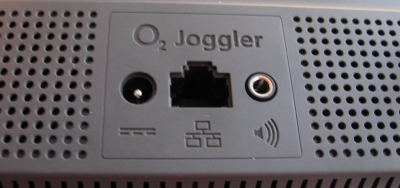 o2 Joggler - Rear connectors - Power, Ethernet and stereo audio out
o2 Joggler F.A.Q:
Need some help and advice with the o2 Joggler? Got a question?
Got a question on the o2 Joggler? Please ask