Use two Home Hubs to link from a V2 Hub on WDS
The new Version 2.0 Home Hub does not have WDS because it does not comply with the new wireless-n standards.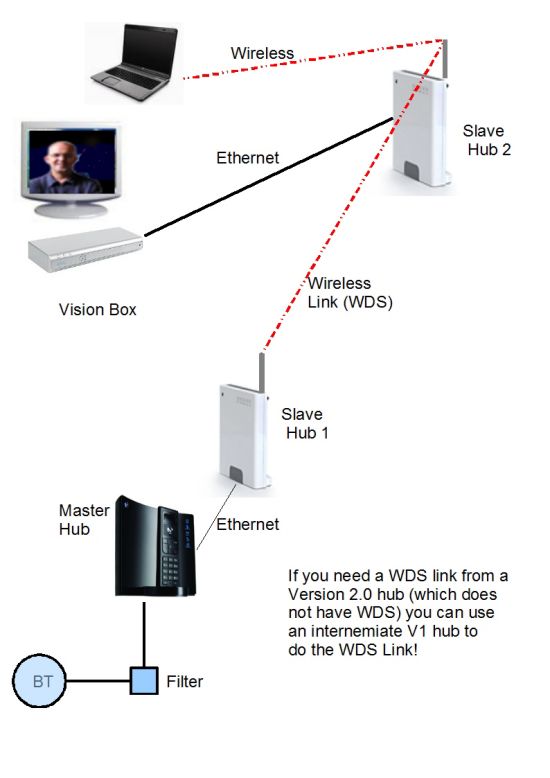 That means you cannot use wireless repeaters directly from the V2. However if you still have one or two old home hubs version v1 or v1.5 you can get them linked by WDS and the link to the nearer one with ethernet.

The basis of the above setup is a combination of the Wireless repeater connection article and the Wired repeater connection .
Security
You should be aware however that using WEP encryption on one of your network devices will mean that the additional security gained by using WPA2 in the V2 hub is lost, as a hacker could break into one of the old hubs using WEP cracking programs. You might strengthen this by setting the old hubs' wifi security to "no more stations" (aka Mac Address Filtering).
Setup
Set up the slaves as per the
Wireless repeater connection
article , but set up TWO slave hubs on the same channel and WEP key, but each with a different SSID and a different IP address, e.g. 192.168.1.175 and .176.
Instead of linking the master and slave by WDS, link the two slaves using the same technique of search and tick checkbox..
There is no need to do any setting up on the master - keep the V2 on default settings .
Plug the slave 1 into a V2 ethernet port and start using!
Don't ask me - experiment!
Page created by "Jarviser" & hosted by FileSaveAs. See the Jarviser Home Hub Index Page
If you've found the content of this page of use, and want to say thanks, Jarviser's charity of choice is Great Ormond Street Hospital. Please visit their site to make a donation
Got a question about the BT Home Hub? Please ask in the FileSaveAs Home Hub Forum
Disclaimer: Content on this page was not originated by FileSaveAs, and is hosted 'as-is' as a service to Home Hub users. FileSaveAs accepts no responsibility for the content on this page. Visitors use information on this page at their own risk. Contents may not be reproduced without permission. Original copyright for content on this page rests with Jarviser unless otherwise stated. FileSaveAs Site Terms apply.