Inside the Home Hub V2.0 power supply unit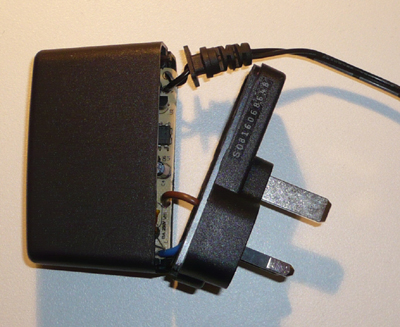 Thanks to a manufacturing defect with the new V2 hub's PSU, whereby it comes apart quite easily, I was given a replacement by BT under their product recall process.

Taking advantage of their generosity I put a penknife blade in the corner of the join, gave it a quick twist and the top came off quite easily!

This seems to be a quite sophisticated supply with as much emphasis on suppression of noise as there is with simple power smoothing.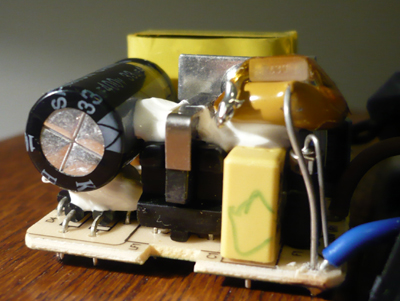 On the mains voltage input side you can see a vertical black component which seems to be a fuse, several suppression components, a small transformer, a full bridge rectifier using 4 conventional diodes and a 33 microfarad smoothing capacitor.



The 15 volt DC output side is quite sophisticated with the large yellow choke, several other passive components and a HUGE single diode, though why that is necessary on a DC side is presumably to protect against reverse currents?

Page created by "Jarviser" & hosted by FileSaveAs. See the Jarviser Home Hub Index Page
If you've found the content of this page of use, and want to say thanks, Jarviser's charity of choice is Great Ormond Street Hospital. Please visit their site to make a donation
Got a question about the BT Home Hub? Please ask in the FileSaveAs Home Hub Forum
Disclaimer: Content on this page was not originated by FileSaveAs, and is hosted 'as-is' as a service to Home Hub users. FileSaveAs accepts no responsibility for the content on this page. Visitors use information on this page at their own risk. Contents may not be reproduced without permission. Original copyright for content on this page rests with Jarviser unless otherwise stated. FileSaveAs Site Terms apply.