Information on CallShield
This page contains information on Callshield system. Originally sold in the UK by Argos, Callshield provided a personal and portable phone number complete with voicemail retrieval
What is Callshield?
The CallShield service porvides you with a second telephone number that you can provide to people or organisations, protecting your home number from calls you don't want. This number will give you greater control over who contacts you, and offers peace of mind.
Latest: As of 2006, the Callshield service no longer seems to be available from Argos, and we can't source an alternative supplier for CallShield. If you can help, let us know. You could look at CallSure as an alternative.
In the meantime, you may wish to consider getting a SkypeIn number, from www.skype.com as an alternative - this offers you a dedicated phone number that can divert calls to your PC or to a voicemail service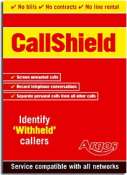 Here's how CallShield puts you in control:
One-off connection fee of £19.99 gets you a number for life.
No bills. No contracts. No line rental.
Your number is untraceable.
Get calls to your Callshield number diverted to a number of your choosing, such as your mobile, home or business telephone anywhere in the UK. You can change this number at any time
Keep your private numbers private.
Identify withheld callers before you accept their call.
Listen to messages being left and interrupt to talk to the caller if you want to.
Record any conversation in full at any time during a call. The service records the entire call, even if you start recording halfway through
Samples of its use
Protect your number. Only give out your home number to people you trust. All other times, use your Callshield number - for example when ordering on the Internet or via mail order, to get rid of nuisance calls, or when you're uncomfortable about giving out your real number.
Call screening. Listen to a message being recorded in real-time, and interrupt the recording to take the call if you want
Call diversion - Give out just one number, and have calls to that number transferred to any number you want, perhaps your mobile, work, or a friend's house
Call recording. Perhaps you're in dispute with a company, or getting threatening calls, just press the * key to record the entire conversation. if you're out for the day. Recordings are saved for 28 days
Ordering Callshield
Callshield is a service available from Argos. You need to but a CallShield pack for a one-off fee of £19.99. The pack is supplied in a DVD-sized case with an instruction book, a card containing an authorisation code, and an audio CD containing a 5 minute introduction to the service. To get the Callshield pack, select this link, to go to the Argos Callshield page: CallShield at Argos From here, either arrange home delivery, or reserve a copy for collection from your nearest Argos store. The Argos catalogue number is 549/0543

Getting set up
Once you have your CallShield pack dial 08702 28 29 30 for automated setup
Enter the 12 digit authorisation code in your welcome pack
You'll be given your lifetime Callshield number
You'll be asked to enter a number to divert calls to.
You'll be asked whether you want to prompt for callers who withhold their number to have to leave a name
Managing your mailbox
To access your mailbox, dial 08702 28 28 28 - A 4 digit PIN protects access to your mailbox.
From your mailbox, you can check your new messages, listen to recordings of recent calls, change your greeting and change your divert number.
Frequently-asked questions
What number do I get?
You'll be given a number in the range 07005 2xx xxx . These numbers are allocated to the "Find me Anywhere" numbering range
Which networks is this compatible with?
All UK networks
What are the calling costs?

Callers to your Callshield number pay at the 'k' rate. As of March 2004, BT prices for calls are : 25p evenings, 12.5p weekends and 37.5p peak
You don't pay anything for the call diversion
Access to your mailbox (to retrieve recordings), is charged at the B8 rate. As of March 2004, BT prices are: 3.95p evenings, 1.5p weekends and 7.91p peak

Does this work with Caller Display?
Yes, you still see the number of the original caller (if you subscribe to CLI) when a CallShield call comes in. 1471 shows the original caller number too.
I need help with my account
The Callshield help and assistance line is 07040 50 60 70
Useful links

Free business cards.
Pass on your CallShield number with free business cards from Vistaprint. Choose from a range of designs, and all you pay is the post and packing. There's a small ad for Vistaprint on the back of the cards
Identity Theft
Currently big news - it's surprisingly easy to become the victim of identity theft. Check out the ConsumerDeals guide to keeping your identity safe... ConsumerDeals Be Safe

Look who's calling.
If you're keen to keep an eye on the people calling your home number, consider getting Caller Display at home. With a suitable phone, display box or a TV box, you can see the number (and name if you program it in) of the caller before you answer the call. We have information on what's available on our Caller Display page.
This page is not connected to the CallShield service, so we can't help with specific questions about your Callshield account, however, we'll try to help with general questions. Please ask in our Telecoms forum.