Amazon's UK Kindle eBook Reader Explored
The new generation of the Kindle looks set to bring eBooks to the UK masses. A look at the wi-fi and 3G enabled Kindle electronic book reader from Masters of the Universe, Amazon
What is the Kindle?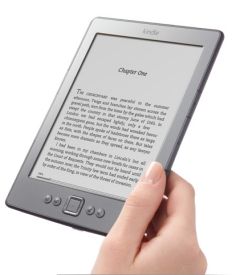 We've looked at electronic book readers such as the Sony Reader in the past, but they've had limitations. The Amazon Kindle is a game changer, and here's why:
Access to over 400,000 books from Amazon's UK store
Install new books over-the-air (3G or wi-fi)
New version is lighter than a paperback and thinner than a magazine
Holds 3,500 books
One month's worth of book reading on a single charge
When the first Kindle became available in the UK, it was an imported version from the US, and you had to pay in dollars. The new version, released at the end of August 2010, was a UK-specific version available for £109 without 3G, or £149 with a subscription-free Vodafone connection, and this low price shows that Amazon's serious about getting UK readers hooked on electronic books.
Things have moved on, and today's Kindle, pictured here, costs from just £89, and is smaller and lighter than the first ones to hit the UK.
Read in direct sunlight, download a new book in 60 seconds, plus access to newspapers, blogs and Wikipedia, the Kindle is loved by millions and is a powerful and addictive device. When the UK Kindle was first launched here in the UK, we got hands-on amd put together a 27 minute Kindle Audio Review - Although a new version of the Kindle has been released since then, the review still does a good job of explaining why the Kindle is a must-have.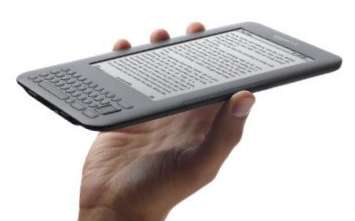 The third-generation Kindle, slimmer, lighter and with wi-fi and 3G
Buy the Kindle from Amazon:
What about the books? A new electronic book store designed for the UK launched at Amazon.co.uk in August 2010. With the biggest selection of any e-bookstore in the UK, you can get more than 400,000 books, including classics, bestsellers and new releases. UK and international newspapers, magazines, and blogs, plus more than 1 million free books. You can also import PDF documents onto your Kindle.
Amazon Kindle FAQ
Our lads will try to help with your Kindle Queries...
Q. Can I "lend" a kindle book to friend like one can with a normal book? (W tham)
Sorry, but no. You can't loan an eBook from your Kindle to another Kindle user yet, although Amazon is planning to add a 14-day loan soon (source).
Got a question about the UK Kindle? Ask us
Useful links