Reviewing the PUMAPHONE
This page contains information on the PUMAPHONE, a rather novel handset set to appear in the first few months of 2010.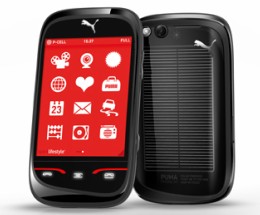 At last - something a little different in the mobile phone market - announcing the PUMAPHONE.
It makes such a change for us to read through the spec sheet for a new phone, and raise a smile - this new phone, from the sports folk at Puma, promises to be a little different.
Aimed at us healthy folk, the PUMAPHONE, made by Sagem, is a keep-fit phone with an analogue stopwatch, GPS running tracker, a GPS bike speedometer, a walking pedometer and a yachting compass (of course).
Next we found one of those "why didn't I think of that" features - the back of the phone has an integral solar cell, to allow charging from the sun.
The PUMAPHONE supports Video chat (front-facing camera), and has a music player, FM radio, web browser, Geotagging and a 3.2 meg camera with flash.
There are also some fun apps too - including on-demand digital cat (Puma's logo, obviously, but what does this cat thing do?). There's also a sarcastic calculator, which will tell you off if you try to work out something that could do in your head, and there's a scratching DJ turntable to allow you to play with your music collection.
A stylish-looking red user interface and a large dollop of quirkiness could just make this phone a hit.
PUMAPHONE Specs:
Dimensions: 102 x 56 x 13 mm
Screen: 2.8 inch touch TFT (240 x 320 pixels)
Camera: 3.2 Megapixel with LED flash
Battery: 880mAh Li-ion (350 hour standby, 4-5 hour talk time)
Operating system: Oh yes, no doubt
UK PumaPhone Availability:
The PUMAPHONE, should be available in the UK from April 2010.
No news on price
Puma, if you're reading... please let us review this for you!
Want to talk about the PumaPhone? Please use our mobile phone forum, or leave a message on our Podcast Podline, 0208 133 4567