Livescribe Smart Pen Explored
Is this the world's smartest tech pen? We get hands on with the Livescribe Smartpen
What is the Livescribe Pulse SmartPen?
Probably one of the most clever bits of kit to grace our desks of late. Superficially, this is a chunky-ish pen with a little LCD screen. In practice, it's an advanced writing and audio capture tool.
Perfect for use in meetings, conferences, lectures or phone calls, the pen will record audio and link the audio to what you're writing. When you use the pen to tap on what you've written, you'll hear what was being said at that moment, from the pen's built-in speaker.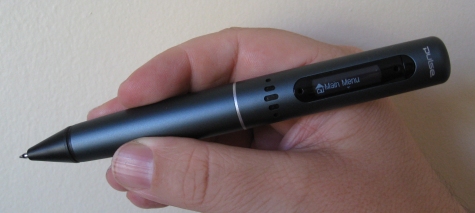 This is a far more effective way of taking notes than lots of scribbled notes or a Dictaphone, as everything you write and hear is captured electronically by the Smart Pen.
It doesn't end there though, as when you connect your pen to a PC or Mac, copies of everything that the pen has written or heard are saved to the desktop and can be searched, archived, converted to editable text, exported and generally repurposed as needed.
Functionality
Pen (obviously)
Voice recorder
Link written notes to audio automatically
Spoken voice instructions
Handwriting to text conversion
Calculator, Piano, stereo record/playback
Export and share your notes, text, audio and drawings
Livescribe Pulse UK Availability
You can buy the Livescribe Smartpen from the follwoing places:
Outside the UK? Go to www.livescribe.com
Livescribe Pulse Smartpen UK Review
We reviewed the Pulse Pen in Show 40 of our podcast. If you'd rather listen to a review than read one, check out show 40, otherwise, read on.
How does it work?
This is the clever bit. The pen has to be used with special paper. The paper is coded with almost invisible dots, and the pen has a tiny infrared camera that uses the dots to work out where on the page it is. Using the special paper isn't the bind that you may think it is, as the pads and notebooks are pretty cheap, and if your printer's up to the job, you can print your own paper.
What does the Smartpen do?
The Livescribe Pulse Smartpen has a stack of other features. Firstly, you can "pencast" - so if you fill a page with notes, drawings, doodles, graphs, sketches, etc, you can export the page as a Flash Movie (complete with audio), so that you can share the session with others, post it on Facebook, and generally impress the heck out of everyone you know.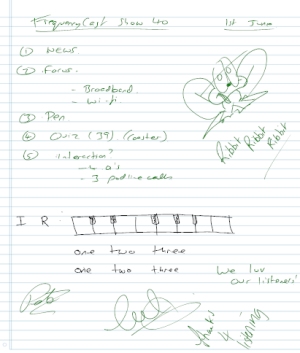 It also has a clever built-in piano - the voice hidden inside the pen asks you to draw a grid of nine squares on the paper, and that becomes a keyboard. Tap on one of the squares, and the pen plays a note. You can change instruments and even add a rhythm track. Pretty pointless, but a very powerful demonstration of just how clever the pen actually is.
You can also use the pen as a basic calculator - write a sum in your own handwriting, and the screen pops up your answer. The pen also has a basic translation demo that allows you to write a selection of words in your own handwriting in English, and will speak a translation in Spanish, Mandarin and Arabic as required.
The pen has a built-in rechargeable battery, which recharges via USB. The 200 page notepad that's provided also comes with a small collection of cards that can be tapped on - a calculator, a set-up card and a couple of credit-card sized tappable prompt cards. A small range of accessories and notebooks / notepads are also available.
Note that development of applications for the Smartpen is encouraged, and a software development kit is available - this could well open the door for a number of innovative apps hitting the market to expand the usefulness of the pen.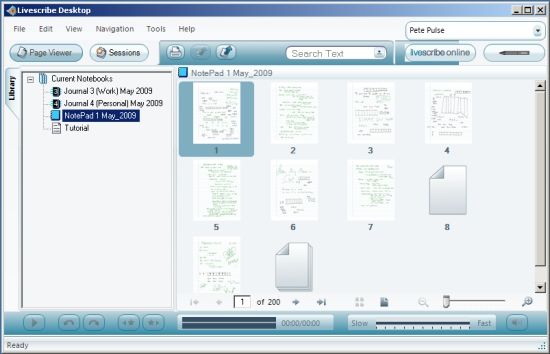 Our Pen Cast: As part of our review in our podcast, FrequencyCast Show 40, we created a pen cast - a recording of what we were writing and recording for the show using the Pulse Pen. See and hear the Pen Cast: FrequencyCast Pen Cast Part 1 and FrequencyCast Pen Cast Part 2
Supplied with?
Out of the box, you'll find a ringbound 200 page pad of paper, the pen itself, a carrying pouch for the pen, two spare ink refills and a stylus, the USB docking cradle, a piece of string, an eight page "getting started guide" and a set of headphones.
The supplied stereo headset contains additional discrete microphones - using this instead of the built-in mic allows you to record binaural audio (so when played back, you get the stereo image of where you were in the room).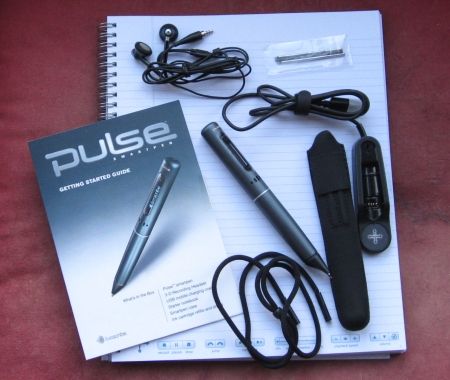 Getting started
Before doing anything, the instructions are to download and install the Livescribe Desktop software. It's not supplied on CD, and it's available for download for Windows XP Windows Vista (32 and 64 bit) and Mac OS X (Intel, 10.5). Our 32 bit Windows version was a 58 Meg download. After installation, the PC software noticed that the pen's firmware was out of date, and promptly downloaded and installed an updated Pen OS.
Negatives?
Very few. For some, the idea of having to use special paper (thus locking you into Livescribe) may be off-putting, but most will understand why magic paper is required. So far our tests have shown the pen to be stable, and bug free. The pen's firmware is upgradeable, and the PC software is intuitive and comprehensive.
Summary
For us, it's the idea of being able to fill up a notebook with meeting notes, website ideas, product reviews, phone calls and podcast extracts, and then being able to recall what exactly was being said when a word was written and when it was written is amazingly useful, as well as impressive. You can also search through the handwritten notes and convert handwriting to editable text. The pen's easy to use, and stunningly powerful. 10 out of 10.

Smartpen Specification:
Audio: AAC format, three quality settings
Processor: ARM 150MHz
Memory: Available 1GB or 2GB
Recording time: 100 hours (1GB) or 200 hours (2GB)
Dimensions: 155mm long , 16 mm wide. Weight 36grams
Battery: 300 mAH rechargeable lithium
Smartpen F.A.Q:
Where do I download the desktop software?