ATEN CS-62U KVM Help and Advice
The ATEN CS-62U is a handy 2-port KVM Switch. It allows you to operate two computers using one screen, keyboard and mouse. Need help? Try here!.
What is the ATEN CS62U?
It's a KVM Switch, which means it can switch Keyboard, Video and Mouse. Here at FileSaveAs, we have two of these devices, and they perform very well.
These are great for situations where you have two computers but want to use just one keyboard, mouse and screen. This particular product is pretty clever, as it uses the keyboard "Scroll Lock" to switch between computers.
Connection is pretty straightforward... the switch connects to both machines via the supplied USB leads, then to the keyboard, mouse and monitor (VGA connector)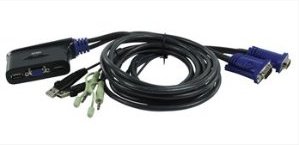 ATEN CS-62 Spec
Cable length: 1.8 m
Two USB Ports
Two Speaker/ headphone/ line-out jacks, for connection to each computer's sound card
Supports USB keyboard and mouse
Where can I get the ATEN CS62U?
This KVM is available from a number of places in the UK. Here's details of our recommended suppliers:
Drivers for the ATEN CS-62U?
Although this KVM switch works perfectly for us on Windows XP, Windows Vista and Windows 7, there's an odd driver issue that we can't resolve. As this problem is happening on two installations, we assume this is common. If you know a fix for this, we'd love to know.
Windows Vista
Although the ATEN CS62 KVM works perfectly, Windows can't seem to recognise the KVM. Here's what we get: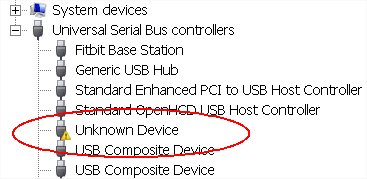 We see this from Control Panel > Device Manager under the "Universal Serial Bus controllers" section. There seems to be a driver issue, as follows:
Device: Unknown Device
Device Type: Universal Serial Bus Controllers
Manufacturer: (Standard USB Host Controller)
Error: Windows has stopped this device because it has reported problems (Code 43)
It seems that the KVM doesn't need any special drivers, however ours isn't happy with the device. It all works OK, but keeps popping up an error with the USB device. We'd love to hear from you if you have the same problem, or better still, know of a fix!
ATEN CS62U Comments or Questions?
Got a question or a comment on this page? Any hints and tips on using the ATEN CS82U? Please get in touch