ASUS Eee 1011PX Review & Advice
Our look at the 1011PX, a lightweight netbook from ASUS that offers a 10.1 inch screen, ATOM570 processor, a 320GB drive and up to 11 hours of battery life
ASUS 1011PX Charging Problem
We're not able to start our review, as the model we have, is exhibiting a weird charging problem!
When we plug in the AC charger, the screen switches between battery and AC about once a second. The brightness alters, resulting in an annoying flicker, and the messages "Batter Mode > Auto Power-Saving" and "AC Mode > Auto High Performance" alternate every second.
Here is a video clip of the problem:
Our local Comet looked at the netbook and acknowledged the problem. Rather than give us a replacement, the manager quoted the Sale of Goods Act and sent us on our way. They don't do ASUS product returns on a Saturday, apparently!
We called ASUS (On 0870 120 8340), who quickly agreed it's a fault. We took a recording of our call with ASUS into Comet (together with some legal advice). Comet finally agreed to replace the faulty product.
Ordering From Comet - Be Careful!
If you're buying the 1011PX from Comet - Be warned!! There is an apparent error on its website (as of 09 Oct 2011). The Comet website states 11 hours of battery for the 1011PX (Model BLK069S), but you'll only get 4.5 hours with this model.
As you'll see from the screenshot of the Comet website, the model 1011PX-BLK069 (Comet SKU: 731587) states a battery life of "up to 11 hours" so you can work "all day long"...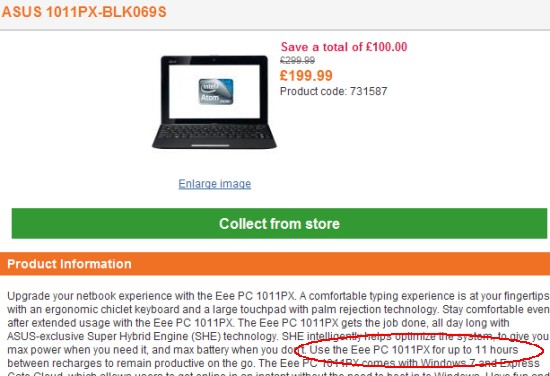 We ordered one at that price, only to find that the box for Comet SKU 731587 states that the 1011PX-BLK069 comes with a 3 Cell Li-on battery, which according to ASUS only delivers 4.5 hours. Here's the info from the Asus website:

It seems that the Comet website is showing information for the ASUS 1011PX-BLK070S (Comet SKU 731609), which contains the 6 Cell 47Wh battery (10 hours). We reported this error to our local Comet on the 7th October 2011.
Also, if you're thinking of buying from Comet, note that if you have a faulty machine, Comet don't do refunds or exchanges at weekends, apparently!
Got a comment on the ASUS Eee 1011PX? Please contact us